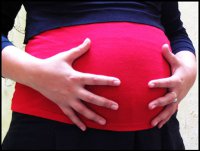 If you don't know, with child. *heh*. Here's my 7th post in this preggo series. Enjoy!
Written December 14, 2011 ::: 11 WEEKS 0 DAYS :::
Wow, I haven't actually typed anything in one of these pregnancy posts in a few weeks!   

  It's not that I'm dying of morning sickness or anything (I'm actually feeling betterish lately) … methinks it's because I've been doing the weekly pregnancy vlogs and that's kinda squashed my inclination to type AND talk.
Today is different though. I'll probably touch on this in this weeks video (which I'll film tomorrow or Friday), but I am freaked out by the fact that my morning sickness symptoms are subsiding. I'm worried I'm not pregnant anymore.  

  Yes yes I know, I don't have any reason to feel that way (no bleeding, no nothing) but still. Waa. Also I know it could be hormones and paranoia but I can't help it. Waaaaaaa. 

  When I first got knocked up and I felt fine, feeling fine was fine … but now that I've been deathly sick for weeks and I'm beginning to feel fine it's suspect 

.  I told Flickerbug (that's the baby, I talk to him by putting my head into my shirt #dontJudge) that I need to know he's in there but he can't make me sick so figure that out on his own and get back to me.  

 … Then I'm not even remotely showing (not that I'm supposed to be at 11 weeks), and I'm getting my appetite back…ish … and what if I go home and surprise my parents with the news and I'm not preggo anymore?!  WAAAAA!! 

  I told my friend I was gonna pee on a stick just to make sure, and she told me to stop wasting money, my feeling is normal at this point, but if I'm really freaked out don't ignore my inner voice and call my OB.
Waa. 

Write more when the spirit hits me.
• • • • • • • • • • • • • • • • • • • • • • • •
Written December 19, 2011 ::: 11 WEEKS 5 DAYS :::
Today was my 2nd pre-natal visit and I got to hear Flickerbug's heartbeat 

.  I was so happy to hear it because it confirmed that that little bugger is still in there growing away 

.  Mommy loves you little heartbeating bugger 

.  My doctor said that it's perfectly normal to think "I'm not pregnant anymore" at this stage.  I also loved *HEARING* something from the baby (because I've only had ultrasounds and those only give you a visual … hence the name "FLICKER"bug.
I'm still not feeling 100%. Nauseous and heartburn. Doctor said I can take Pepcid or Zantac. Hubby and I are flying out to the Virgin Islands on Wednesday so I'll have all my meds squared away to tonight.
Oh and we tell my family on Saturday 

.
Write more when the spirit hits me.
• • • • • • • • • • • • • • • • • • • • • • • •
Pregnancy Vlog • Week 11 • Feeling Better
Pregnancy Vlog • Week 12 • I Heard The Heartbeat!
Until next time Glam Fam I wish you
Life, Liberty & The Pursuit of Nappyness,

@Glamazini | facebook.com/IamGlamazini | youtube.com/Glamazini | Google+
~~~~~~
Disclosure: For more information about the Glamazini.com disclosure policy, click here.