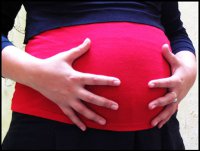 If you don't know, riding the baby train. Here's my 9th post in this preggo series. I'm almost caught up to real time. Enjoy!
Written January 25, 2012 ::: 17 WEEKS 0 DAYS :::
Uh yeah, it's like I totally abandoned the written part of this blog post and just started doing videos. Sorry about that, it's just easier to plop down infront of a camera and start rattling on.
This is my first written post in the 2nd trimester!
This past Monday I finally announced on my blog and my YouTube channel. The outpouring of love was beyond words!  It really made my day brighter, especially 'cause I left the house that AM feeling kinda down and deflated.
Also this past Monday my boss told me that my contract would not be renewed.  I started this contract in March of 2010. It was for 2 months. They have renewed it everytime for the past 2 years, a true blessing.
But this time they will not renew.
I try to look on the bright side of most things but it can't help but cross my  mind that the timing is tre interesting. I was told it was due to budget cuts.  Interesting. I did not plan on telling anyone at work until January of this year, but ended up having to tell my boss last year becaause I was so sick. My humanity can't help wonder what would have happened if I'd waited.
Deep thoughts.
On a brighter note, this past Monday was my monthly prenatal appointment and I got to hear Flickerbug's heartbeat once more. I also had a strange "thump" feeling in my tummy while waiting on a flight from Miami on Sunday. Then last night I felt like marbles were rolling from the left to the right of my insides. I'm wondering if that's Flicker … and if so that joker better take his lil butt to bed dancing all in my gut at 11PM! bwhahaha!!!
Write more as the spirit hits me.
• • • • • • • • • • • • • • • • • • • • • • • •
Until next time Glam Fam I wish you
Life, Liberty & The Pursuit of Nappyness,

@Glamazini | facebook.com/IamGlamazini | youtube.com/Glamazini | Google+
~~~~~~
Disclosure: For more information about the Glamazini.com disclosure policy, click here.