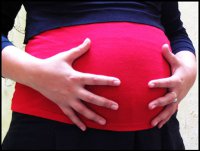 Alright, time to catch ya'll up on the haps with me and Flickerbug. Here's my 12th post in this preggo series. Just the video, enjoy!
Tee-shirt from FeminineFunk.com
Until next time Glam Fam I wish you
Life, Liberty & The Pursuit of Nappyness,

@Glamazini | facebook.com/IamGlamazini | youtube.com/Glamazini | Google+
~~~~~~
Disclosure: I said "bought" about the shirts by mistake. Lo siento. The owner actually let me pick 2 shirts off her site for free (and did not ask me to do a video or blog post in return, I just did).  For more information about the Glamazini.com disclosure policy, click here.