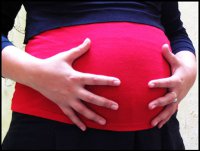 If you don't know, I'm in a family way. *tee hee*. Here's my 4th post in this preggo series. Enjoy!
Written November 16, 2011 :::
7 WEEKS 0 DAYS :::
I'm still nausous and have been forced to work from home. 

  I actually had to give in and tell my boss that I was pregnant on Monday, to explain my subsequent request to work from home more often. He was all good with it, so I've been home yesterday and today. The nausea (I refuse to call is "morning sickness" because it's all day at any time for me) ebbs and flows. One minute I can't function or even look at food (or look in my pantry or fridge), the next I have a mild craving (yesterday for peanut butter on toast and later a hard boiled egg) and I can eat something. I'm having difficulty forcing myself to eat all day (which is the opposite of me but it's all par for the course I suppose).
My other prominent symptom is EXTREME SUPER EXHAUSTION BEYOND MY COMPREHENSION.  I barely had any energy as it was managing adrenal fatigue, but now it's worse … which I thought was impossible.  Sometimes I can barely stand up or walk, and I can sleep for days.  My hubby knows that pre-pregnancy if I took a nap late in the afternoon it would keep me awake most of the night and I'd have trouble sleeping later. Well not so now-a-days. I can literally go to bed at 9PM, wake up at 8AM, go back to sleep until 10AM, fall asleep at 1PM, wake up at 5PM and go right back to bed at 11PM without missing a blink. I'm also finding myself passing out sleeping at a whim (which is funny 'cause hubby does this regularly so now we both wake up like "huh? what happened?!".)
Anyhoo … my ultrasound for tomorrow is cancelled in lieu of the one next week before Thanksgiving.  I'm still spotting regularly and praying that maybe that's just how my body does things.  I've decided I'm also gonna start making pregnancy vlogs and post them next year when I tell yall so you can get some sort of 'real time' stuff beyond this here writing.
Write more when the spirit hits me.
• • • • • • • • • • • • • • • • • • • • • • • •
Written November 21, 2011 ::: 7 WEEKS 5 DAYS :::
I just got a phone call from my doctor's office saying I test positive as a carrier for the sickle cell trait.  Waa. 

   It makes sense though because I have 1st cousin who suffers from sickle cell. I have my 1st official prenatal doctor visit tomorrow so they will be doing more tests then deciding if they need to also test my hubby.  I also have my 2nd ultrasound today and am still nausous.  

Last thing is I read about someone who lost their baby just 3 days ago at 19 weeks!

  OMG.  I do my best to injest knowledge while still guarding what negative things I let into my mind so I don't get anxious and fearful. I'm sad for them, but don't want to read too much of what happened (nor do I want to look up too much info on sickle cell or high hcg levels right now either). I do all of that if the need actually presents itself.
Write more when the spirit hits me.
• • • • • • • • • • • • • • • • • • • • • • • •
Written November 21, 2011 ::: 7 WEEKS 6 DAYS :::
I can finally start telling people I'm knocked up! 

   Hubby and I said my ultrasound and the 8 week mark would be the "start telling folk" point and tomorrow is officially 8 weeks, and I've had 2 ultrasounds, both of healthy baby Flickerbug!
I've tried everything for my nausea with no avail, even those Sea Bands, so today during my 1st official prenatal visit, my OBGYN wrote me a perscription for Ondansetron4mg, which I took 3 hours ago and am feeling MUCH better THANK GOD!  I may be able to enjoy Thanksgiving yet!

Anyhoo … the only people I'm planning on telling soon are my sister-in-law, brother-in-law, and potentially 2 friends.  Other than that, all is well, my boobs hurt like crazy and I'm looking for cute "baby-related" gifts to put in my parents and brother's Christmas gifts to surprised them. Exciting huh?!
Write more when the spirit hits me.
• • • • • • • • • • • • • • • • • • • • • • • •
Until next time Glam Fam I wish you
Life, Liberty & The Pursuit of Nappyness,

@Glamazini | facebook.com/IamGlamazini | youtube.com/Glamazini | Google+
~~~~~~
Disclosure: For more information about the Glamazini.com disclosure policy, click here.