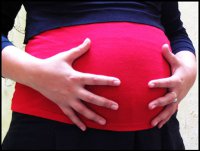 If you don't know, pregcellent. *heh*. Here's my 6th post in this preggo series. Enjoy!
Pregnancy Vlog • Week 9 • "Morning" Sickness, No Appetite, Exhausted & Depression
Pregnancy Vlog • Week 10 • Digestive Issues, Dry Skin & Onesies
Until next time Glam Fam I wish you
Life, Liberty & The Pursuit of Nappyness,

@Glamazini | facebook.com/IamGlamazini | youtube.com/Glamazini | Google+
~~~~~~
Disclosure: For more information about the Glamazini.com disclosure policy, click here.