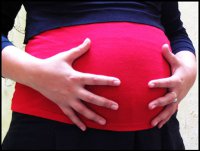 If you don't know, I'm renting out the guest room. *tee hee*. Here's my 3rd post in this preggo series. Enjoy!
Written November 14, 2011 :::
6 WEEKS 5 DAYS :::
OMG I'm so nausous!

This "morning" sickness is kicking my tail … worst part is I haven't told anyone yet so I have to go it alone *waa*. It started really picking up at the 6 week mark (last week Wednesday, November 9th) and has been all day every day since. I walk with unsalted crackers, drink ginger tea, water, and ale all day, try to eat protein (although it's hard) and am trying to keep my food intake constant so I never have an empty stomach (even harder). On top of that I have negative energy so all I want to do is go to sleep right now (after I potentially throw up). I'm waiting on hubby to let me know if I can tell my boss (way earlier than I'd planned to) and maybe request access to work from home because whew chile.

Oh and concerning the spotting from my last post, my blood tests came back saying my hcg level was 68,000 which apparently is hella high for just going into week 6. Due to my high levels, they decided to forego the 2nd blood test scheduled for this week and do an ultrasound instead, which I had on the 10th. Everything checked out well (and I got to see little Flickerbug for the 1st time

). They have me coming in for another ultrasound at week 8, so right before Thanksgiving on November 23rd. I plan on telling my sister-in-law and brother-in-law by then. I'm still seeing spotting every blue moon so who knows. Guess we'll see after the next ultrasound.
Pardon me.

Ok, write more when the spirit hits me
• • • • • • • • • • • • • • • • • • • • • • • •
Until next time Glam Fam I wish you
Life, Liberty & The Pursuit of Nappyness,

@Glamazini | facebook.com/IamGlamazini | youtube.com/Glamazini | Google+
~~~~~~
Disclosure: For more information about the Glamazini.com disclosure policy, click here.