Many moons ago I was contacted by the lovely people at Shielo to do a review of their products. I had hair then *looks away dreamily* … much much more abundant hair … and tried their products on and off for several months. Then 2012 hit me like a ton of bricks and … well … I'm just getting to post this review. Here goes nothing!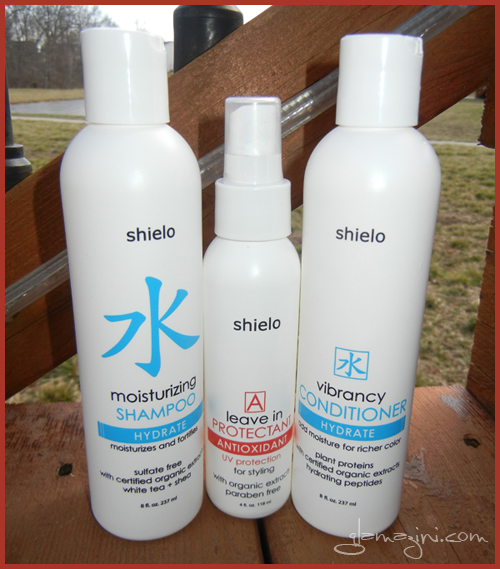 I present to you Shielo's Hydrate Moisturizing Shampoo, Antioxidant Leave In Protectant, and Hydrate Vibrancy Conditioner (8oz, 4oz, 8oz respectively).
The sulfate-free shampoo purports to be "excellent at cleaning the hair without stripping it of the necessary moisture needed to stay healthy and free flowing". It is made with organic extracts of white tea and shea butter which act as "a UV protectant and protective moisture barrier to seal the hair shaft" as well as hibiscus and vanilla cactus to "help soothe the scalp". Sounds fancy.
The paraben-free conditioner sounds just as fancy with its "plant proteins and deep-penetrating hydrating peptides to add moisture" and "replenish the appearance of youthful hair, while vitamins and minerals are designed to seal the cuticle to lock in vibrancy." The website even promises that "you will see results just after one use". That's a tall order huh? Sounds lovely.
There is also a sealing mist in this line that I did not get to try but can be found on the Shielo website.
That last item I tried is their most popular seller, the paraben-free antioxidant leave in protectant. What is an antioxidant leave in protectant you ask? This particular one says it will "infuse hair with pro-vitamins, proteins and amino acids while providing UV protection" and is excellent at controlling frizz, refreshing a hairstyle or even as a styling aid on damp hair prior to using heat tools.
Soo what did I think? (I know you're dying to know)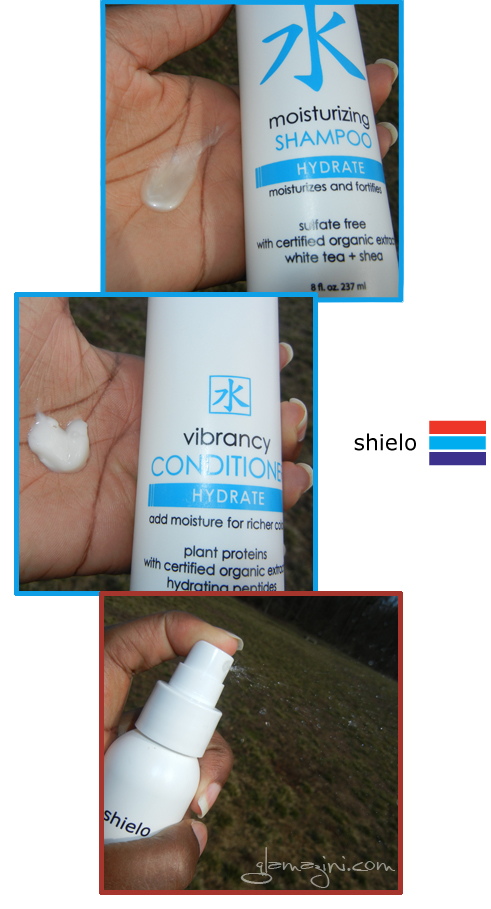 I really like the shampoo and conditioner and REALLY LOVE the leave in protectant! *swoon*
First let me say this, it takes a lot for me to be wowed by a a shampoo and conditioner honestly. I've tried so many and my hair is generally not that picky. That said, do I find myself reaching for this shampoo and conditioner when I have the choice (which I do because I have several other product lines I'm testing for reveiw). The answer is YEP! I love how my hair feels and behaves after using them, and with this never-ending winter in the Midwest, even now with shorter hair I use them when possible. I would recommend both, even though the price is a tad … well … pricey, but they do offer a kit which adds up to significant savings. If your hair is picky I say go for it and let me know about your results.
Now let's talk about this magical magic juice they are calling their "antioxidant leave in protectant". What in the world?! At first I thought it was a leave in conditioner and put it on my hair with no other conditioning or sealing product. The results were not to my liking, however I noticed my hair was super laid and shiny without a greasy feel. I was intrigued, so the next day I slapped on my favorite leave in conditioner, then a sealant and then sprayed the protectant in my hair. YES! YES! YES! When my hair was longer it just made my hair "behave" if that makes any sense? The frizz was diminished and the shine increased. I love this stuff and am still using it to lay my ceasar cut down after conditioning and sealing. I would totally repurchase the leave in protectant. Totally.
So that's my long awaited review of the fabulous Shielo products, and I was not disappointed one bit. Thanks to the wonderful folks at Shielo for reaching out and sending me these items to review.
To
find out more information or to purchase any of these products visit
Shielo.com
.
~~~~~~
These products were sent to me at no cost to review. As usual the opinions are my own. The leave in really does make my hair happy AND it's on sale right now.