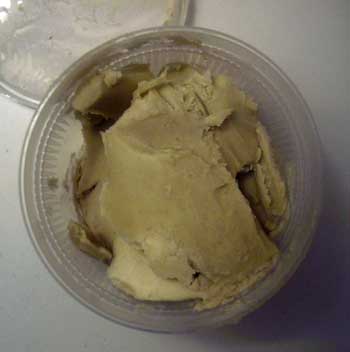 I was running out of my other shea butter that I love and I couldn't find it anywhere! I purchased this from an african guy @ FAMU homecoming….I was desperate. He had a big old hunk of it in a bag @ the little fair next to the game and I bought this. So far so good

~ edited 11.13.03 ~
I purchased a small strainer, melted this butter in the microwave and strained it twice. I may add a drop of EO for scent. This stuff is still the biz-omb!

~ edited 11.14.03 ~
I added Rosemary EO (20 drops), Sage EO (15 drops) and Peppermint EO (15 drops) to this (.5 lb of shea).

edited 12/24/2008
Still a staple after all these years, and what I use on my hair THE MOST. 

Price: $5 for 12 oz. (i don't know if this is a good price ya'll)
Purchased: African vendor
Usage: take out a dime sized amount in your palm and rub together very quickly until it liquifies. Apply to hair
–or–
melt shea butter over stove and apply to hair as needed.