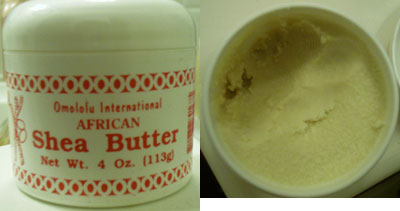 WOW! WOW! This stuff is amazing!
I don't even know how to say how wonderful this stuff has been thus far. I heard some chat about it on nappturality.com so I bought some and did a braidout on transitioning hair. My braids were sooooo supple when they dried and not greasyat all. I wore them out of the house 2 days in a row and got many compliments. When I took the braids out the braidout was the BOMB!

~ edited: October 1, 2003 ~
Just in case you were wondering this is still the bomb on my natural hair! I use it in my spray bottle and in my moisturizer.

Price: ?? for 4 oz.
Purchased: African Product Store (I don't remember the name but I'll find out soon.)
Usage: take out a dime sized amount in your palm and rub together very quickly until it liquifies. Apply to hair
–or–
melt shea butter over stove and apply to hair as needed.