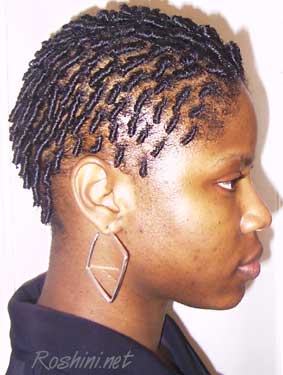 I went yesterday and had some comb coils done professionally. Why? Why not. The girl did a good job and they came out very similar to my first bout with comb coils several years ago.
This is the right side of my head where I'm dealing with hair loss. Can you see how scalpy it gets infront of my ear?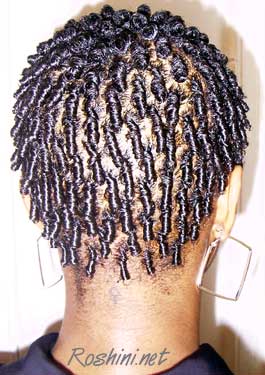 Here is the back of the coils. My hair is shorter now than it was when I first had these done years ago. She used the same type of gel, Ampro. I had to wash them out last time after a week and a half 'cause my head itched like the dickens. I hope to keep these for at least 2 weeks but we'll see…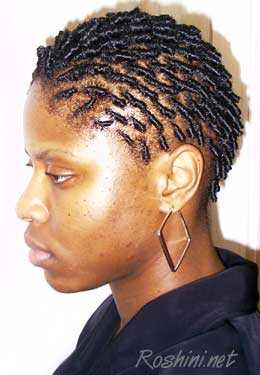 The left side (what's with that one that's going up? Do you see it near my front hair line?)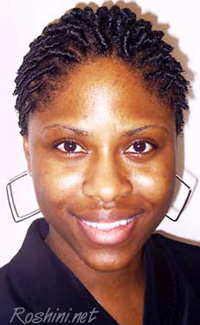 I was soo tired in the picture. I'd been up all day at church, out with friends then at the hair dresser. I always like how my coils look in the front 'cause the texture is looser so the coils go from big to small. I really hope these hold up so I can get a break from doing my hair for a week or so. The girl washed my hair with Mizani Shampoo yesterday and I all but freaked out (internally) 'cause I haven't shampooed my hair in months! She conditioned with KeraCare conditioner and my head actually felt quite nice ~scribbling Kera Care down~. She even whipped out the wide toothed come and conditioner combed. She seemed a tad heavy handed when braiding this guy infront of me's hair though (eeek). At anyrate, I will let ya'll know how I fare with this gel etc. in my hair. I liked her work so I'll most likely be back to her at some point.
Maintenance: Spray with glycerin and water and tie with a satin scarf at night.