It is 1:53 a.m. and I should be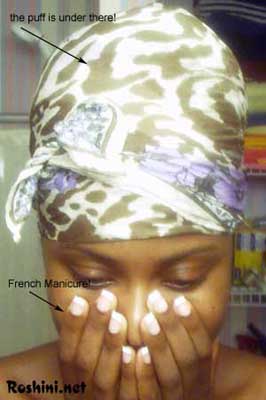 b4 I go, I wanted to post a picture of how I tie my hair @ night for reference. I always use a huge square satin scarf (like this one that I got on the 'extended borrowing program' from 'Mama Boutique'

). Anyhoo, I fold one corner down and place the middle of the folded side on my forehead. I wrap to the back then come around and tie in the front. If I don't do this the scarf will come off during the night.
(1) I would like to point out that the perfect puff is still going strong and is hiding under the scarf just so
(2) For no reason at all I've included my french manicure in the picture. I got the feet done but I'm not that flexible *ha*.
This picture will serve well in my 'how to achieve the perfect puff' mini-style. good night ya'll.