I was experiencing major fuzzies so I decided to take the twists out at the one week mark. I'm also guilty of not keeping my hair as moisturized as I'd like so that was another factor in taking them down.
Here's the resulting twistout.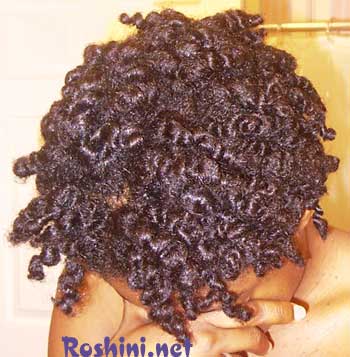 I took a shower letting the twistout get spritzed and damp at will. I then spritzed with my shea butter deal, fluffed with my fingers and added a couple click-clacks to the front. Voila!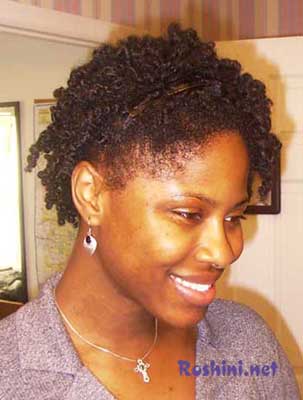 February 18, 2004
"Your hair is amazing!". This is what a woman screamed in my ear today when I walked into a (white) salon looking for Redkin Heavy Cream. She was standing so close she honestly scared me a tad 'cause she literally yelped it right into my ear

. No problem though, I'm all about impulsive complimenting!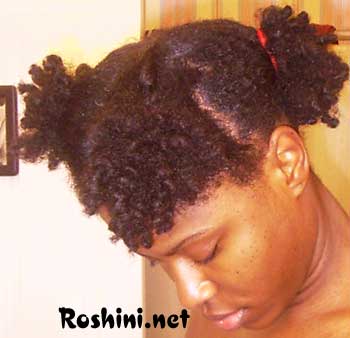 Although I was loving my twistout I decided to wash my hair because the Elasta Feels Like Silk left little tiny flakes in my hair. Also my hair felt dry (probably because I've neglected it) and my scalp itched.
I did not clear out my hair. I washed it with diluted Dr. Bronner's Almond Castile Soap. When I was done I seperated it into 4 puffs. This is what I looked like at that point.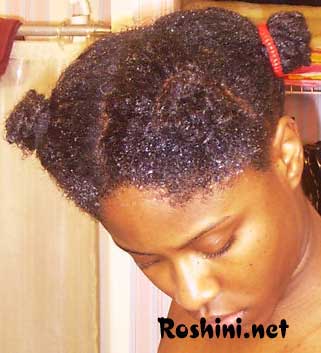 Next I slathered each puff with Redkin Heavy Cream making sure to pay good attention to my ends. I then balled each puff up and covered my hair with a conditioner cap.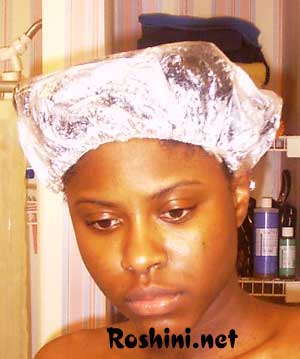 I wore this cap for about 3 hours and as you can see there was major heat being generated. The cap was actually hot when I took it off and I didn't sit under the dryer or wrap with a towel

. I must've been mad or something.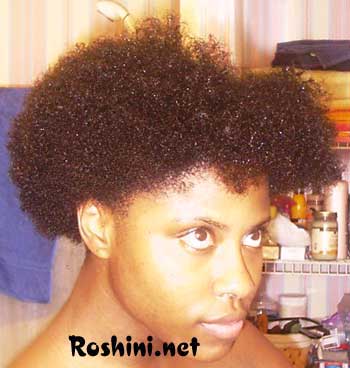 Once the deep conditioning was done I hopped into the shower and cleared out my hair with my Denman Brush. Here's what I looked like at that point. I look like Undercover Brother … "If you mess with the fro, you gotsta go!"

.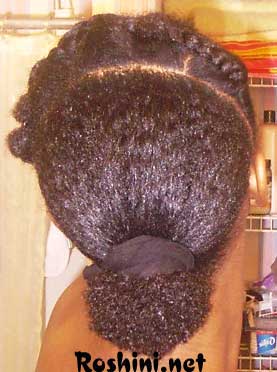 I plan on box braiding my hair tomorrow so tonight for church I parted out my sections and put the back into a ponypuff. I love this and it makes me long for when I can put all my hair in such a low ponypuff. Very nice.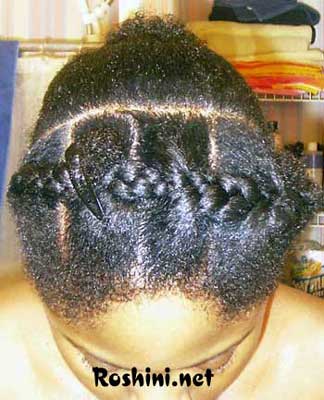 I was trying to do something cute with the front but it came out kinda wrong and I was in a rush.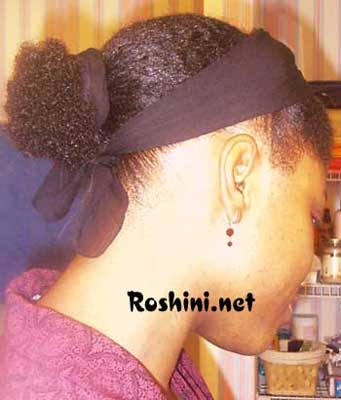 Voila! This is what I came up with so I could leave….cute I think.