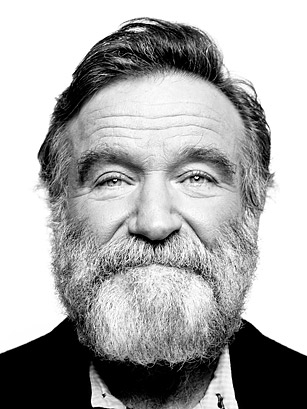 I always start these posts by saying "I don't want to write this post" and this time that could not be more true.
As we all know by now, Comedian Robin Williams was found dead in his home on Monday and it was confirmed a suicide by authorities yesterday.
Robin Williams y'all.
Happy Days Mork & Mindy Robin Williams
Club Paradise Robin Williams
Good Morning Vietnam Robin Williams
Aladdin Good Will Hunting Bird Cage Dead Poets Society Mrs. Doubtfire The Fisher King Jumanji Patch Adams Happy Feet ROBIN. WILLIAMS.
*sigh*
Awakenings is one of my favorite movies ever made.
Whew child.
Sources closest  to him say that he has suffered from depression his entire life and was recently dealing with a very deep pit.  Most people I know are speechless, as am I. I barely know what to type and tell you guys because my heart is so heavy for him and his loved ones. Depression is not a respecter of persons, it's not playing out here in these streets.  It doesn't care if you have no money or all the money, no fame or all the fame, it will come to you and threaten your very life with it's deep aching sadness and inability to see a way out. That's why I feel so strongly about setting setting up a support plan BEFORE the pit begins to you know how to identify it coming and have help stopping it before it starts or getting out of it if it's inevitable.
I hate doing these posts … h.a.t.e. because it means yet another person decided they couldn't fight any longer. I do them because, when a prominent person makes the choice to end their own life it allows the discussion about mental health and depression to take center stage. Per NBC news there are over 30,000 suicides in the United States every year and more people die at their own hands than in car accidents. We must stop blaming people and start helping people. No one perpetuates a stigma for cancer, but if your brain is the organ that betrays you everyone acts like you are weak and have some control over that. SIGH.
My heart is for those suffering to understand they are not alone and to get help and I will continue to use these opportunities to repeat the message to anyone living with mental illness, discouragement, depression, hopeless, or who is suicidal.  Please get help! Reach out to someone, you can laugh again.
Rest in Peace Robin Williams, O'Captain my Captain
July 21, 1951 – August 11, 2014
Love & Light,
~ ini