I got inspired by some Youtubers to rollerset my hair (bad idea

  but let's carry on with this post).  I started with my twisted puffytail that had been in for a week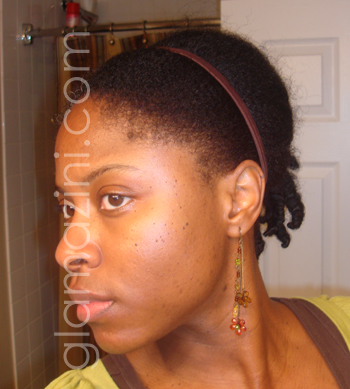 Unfortunately I'd had to loosen up the band holding my hair some to give myself relief.  When I washed it and pulled it back it was fine but once I got back from San Diego I noticed the back edge of my nape was hurting and I suppose it's from shrinkage pulling my edges. 

So I loosened it up and put some neosporin on it.  Bother.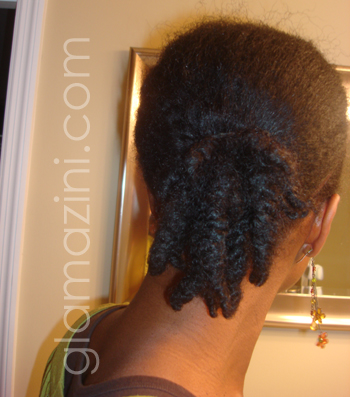 Alright, here we go.  Once I took my hair down this is what it looks like…the front is loose and the back is twisted as expected.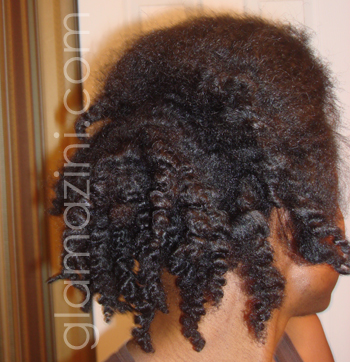 I started in the back of my hair and held the front out of the way with a t-rex clip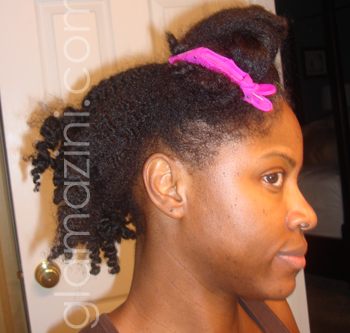 I planned on using my Eco Styler Gel, Carol's Daughter Healthy Hair Butter*, and water to do this roller set.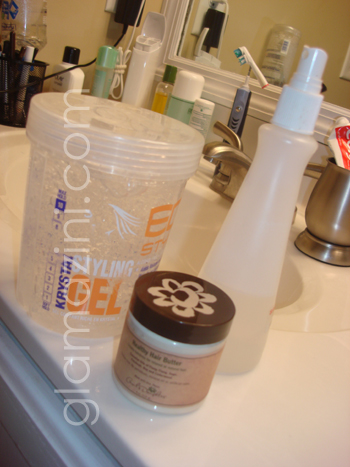 And 2 different sizes of rods like so: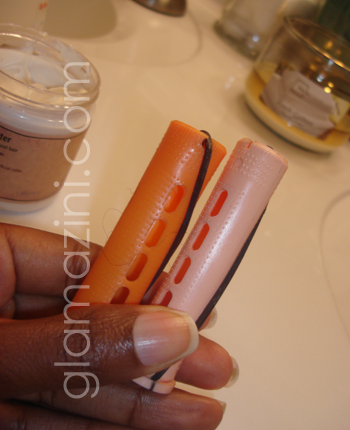 Basically I sprayed each section with water, added a tiny dab of CDHHB* and Eco Styler Gel, then rolled it onto the rod and secured like this: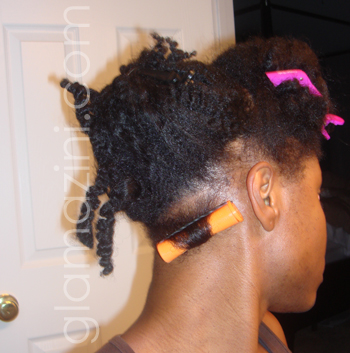 I used the larger rods I own in the back then the size down as I got near the front (I wished I'd had even larger rods but oh well)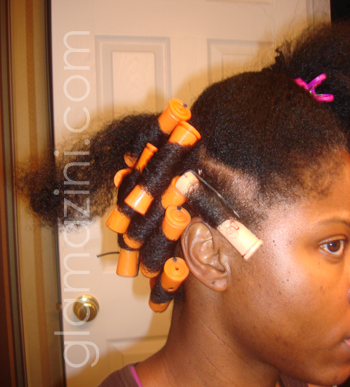 I have very fine short hair around my temples so I ended up using these tiny rods there.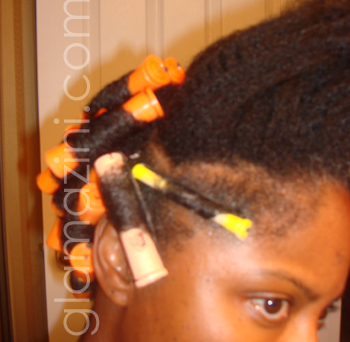 Oooh ooh ooh you guys!

There's one of the gray hairs I keep telling you guys about in the middle of my head, the batch that's actually growing!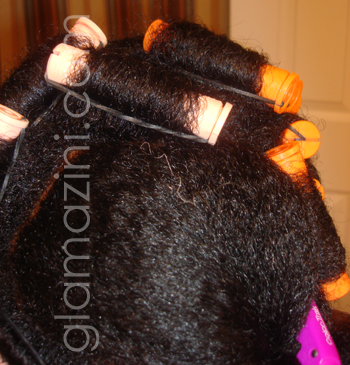 There see?  That's how long the gray hair in the front of my hair line should be by now since I stopped plucking ALL these suckas in January of this year. 

  AND this is a great visual on how much my hair has grown since the beginning of the year.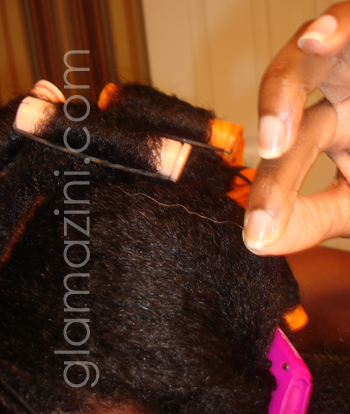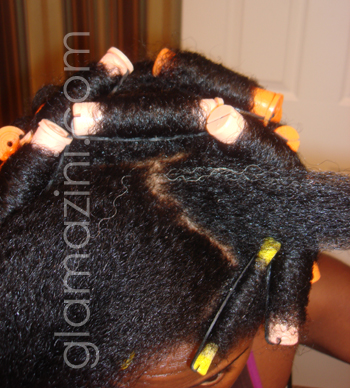 Alright back to the rollerset.  So I ran out of rods and had to pull out my old faithful magnetic roller stash that I inherited from my mother (and by

  inherited I may or may not mean stole

)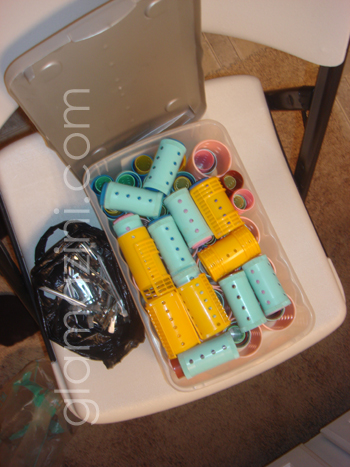 and I found this size roller that seems to mimic the same curl size as the rods I was already using in the front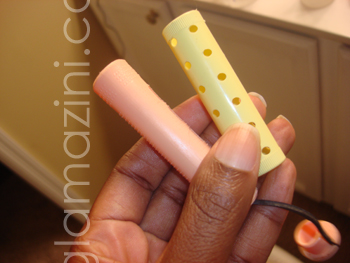 And here's the finished product: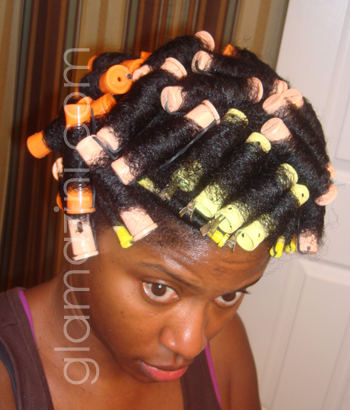 Here's the back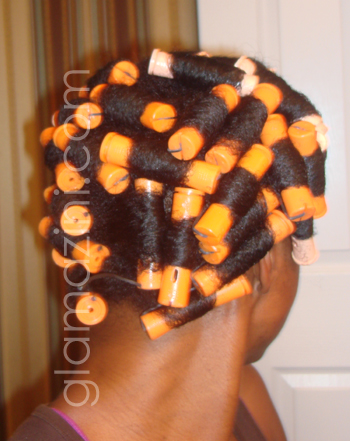 And side.  This took me about 45 minutes to do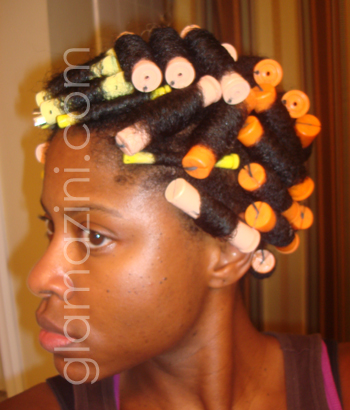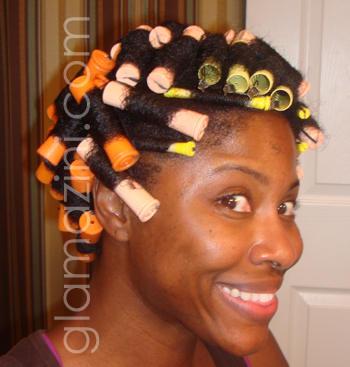 I covered it with a hairnet (for maximum drying) and slept (quite uncomfortably I might add

) on it just so.  You see that look on my face? That was concern.  I totally know better than to rollerset my hair 'cause it never turns out well BUT I had great hopes for this set which were dashed by the evil CDHHB*.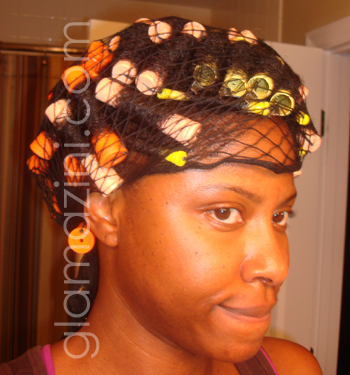 Stay tuned! 

Life, Liberty, & The Pursuit of Nappyness     

*Carol's Daughter Healthy Hair Butter does not work on my hair.  FAIL!  I tossed it.