As you know, I've been on the hunt for a natural deodorant for the better part of the past year.  Late last year, my husband and I used Schmidt's Deodorant exclusively for 4 weeks and I'm here to share my thoughts.
This natural deodorant comes in 5 scents:
Lavender + Sage
Bergamot + Lime
Ylang-Ylang + Calendula
Cedarwood + Juniper and
Fragrance-Free.
Hubby and I ventured into Lucky's Market, sniffed the options, then decided on the Bergamot + Lime (fragance-free was not in stock).  After a year of doing so, I've gotten pretty used to trying natural deodorants that have no antiperspirant properties (meaning you may sweat), so hubby and I dived right in and started using the Schmidt's Deodorant the next day.
Schmidt's was inspired by a singular mission: to change the way people think about deodorant. We've raised the bar in an industry that has historically left users wanting more. Schmidt's has set new standards for deodorant: a luxurious feel, health-conscious formulation, captivating scents, and an experience that outlasts the competition.
The short version of this review is: This deodorant is amazing, it stops all odor on both myself and my husband, keeps us both dry and lasts longer than any other natural deodorant I've used to date … but neither of us use it any longer.  To find out why keep reading.
Smell (of the bergamot + lime scent)
I purchased the bergamot + lime scent and smelled the others while at the store (I smelled fragrance-free on a subsequent trip).  The bergamot + lime scent is pleasant with a limey zing. I don't know what bergamot smells like, but it must smell amazing because both my husband and I thought this was the most unisex and over all pleasant scent.  The others were quite strong and sometimes jarring  in our opinion. Ultimately we would have gone with the fragrance-free but it wasn't available at the time.
Texture
Schmidt's Deodorant has a creamy formulation that reminds me of the shea butter/coconut oil mixes that I make for for myself at home.  It starts out as a firm cream texture and easily transforms into an oily powder when applied. This is what the product looks like in the container: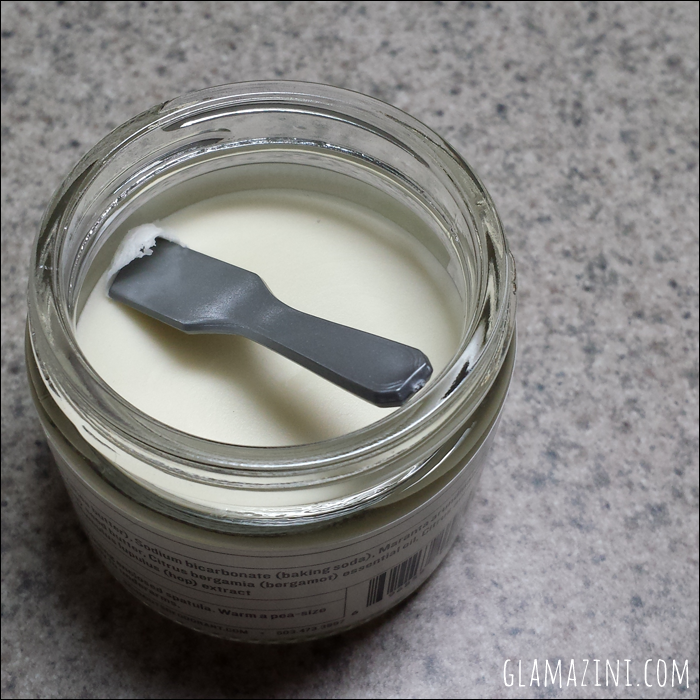 The spatula it came with was cute but I found myself just using the back of my fingernail to scrape a pea-sized amount out to used.  It's not runny at all. If I put the container on the side the product wouldn't budge, although I'm not sure if it would melt or soften in warmer weather.
Below is a shot of the texture outside of the container (as well as a good look at the amount I typically use per pit, about the size of pea).
As you can see on the top photo, this deodorant is firm enough to keep it's shape, but when rubbed in (shown at the bottom) it quickly melts and spreads into a cream then powder-ish texture.  If you read my Oyin Funk Butter review that touted itself as a "cream-to-powder formulation", I would say that this Schmidt's deodorant is ACTUALLY a true cream-to-powder formulation and super easy to apply with no irritation whatsoever.  In the photo above I could have continued rubbing the product in until it disappeared but left it half there so you could see it.
Directions for Use
These types of deodorants are simple to apply. You scoop a pea-sized amount out of the container, warm it between your fingertips lightly to soften, then smooth the product onto the skin under your arms. It's always advised to test the product on your wrist or inside your elbow before using it to make sure you don't have any adverse reactions. I always had great results applying the deodorant on damp skin fresh out of the shower or over a layer of coconut oil (optional).
Does It Work?
Absolutely without a doubt this product works and it one of the best all-natural deodorants I and my husband have ever used ( I've tried 5 or 6 so far).  If we applied it in the morning, we we're both able to consistently get odor protection and dryness all day long (which is incredible because I sweat so much, hubby does not).   So why did we stop using it you ask?  Well …
Why I Stopped Using It
Just like the Funk Butter, the Schmidt's deodorant began to lightly irritate my underarms and make them darker *real tears*.  This happened in about 4 weeks for me. Now granted, it was not as intense as the irritation and darkness caused by the Oyin product but, alas, I just couldn't do it.  Hubby used the Schmidt's deodorants for 3 months but eventually said he was having the same issue and discontinued using it (although it's still sitting on his side of the bathroom counter months later almost like he hopes he can still use it one day because it really was a great product *sigh*).
So there you have it, my thorough review of Schmidt's natural deodorant.  If you have any questions let me know in the comments below.
Have you tried any of the Schmidt's products? Let me know below.
Edited 2/21/15 to add:
A brand manager at Schmidt's read my post and reached out to me concerning the irritation. This is what he said:
I also wanted to check in with you about the irritation that occurred. This is an indication that you can use much less of the product, even 1/4 of what you typically would–you may be surprised at how little most need to get results! Also, you want to make sure the product is well-softened between the fingers before application. Don't try using it again until the symptoms have dissipated. Hope this helps!
With that information I tried using less, mixed with coconut oil and in a couple days the irritation had started again :(. I was so hopeful but alas, I have a baking soda sensitivity so this great product doesn't work for me. If you don't have such a sensitivity I highly recommend it.