Christmas has come early at my house.
Recently I spent some time shopping at a department store (which I never do) because I got me a gift certificate and wanted to check it out.  I hadn't been inside a Sears store in years, so I went online to see what they had available and decided to visit the location in Chesterfield, MO because they had several items in stock that peaked my interest.
By the way, did you know that the Chesterfield MO location of Sears has a huge Lands End section?  I didn't know either.
Anyhoo … a quick search of the racks and I realized rather quickly that the Kardashian Kollection was where my heart was.  Who knew?  I must confess, I only know one of the Kardashian sisters by looking (and the brother because I love Dancing with the Stars), but know them or not … them gals really can put together a collection of fabulous clothes THAT FIT ME! *faint*
Here's what I got:
Kardashian Kollection Peak Shoulder Blazer in a size large fit me like a glove!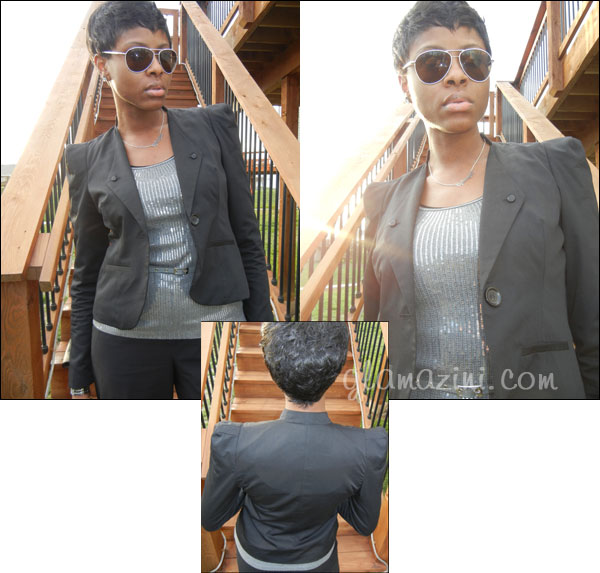 For newer readers, I'm 6'1″ and have a hard time finding fashionable clothes and shoes that fit. I literally SQUEELED in delight when I found this blazer. #SCORE  It was marked down from it's regular $99.00 price tag to $49.99.  Even then, I'm gonna call this item a "splurge" … and one worth taking *squeel*.
Next up another ridiculously hot item from the Kardashian Kollection: this FABULOUS Acrylic Ring With Metal Medallion, Faceted Stones, and Pearl Cabochon Center (found HERE).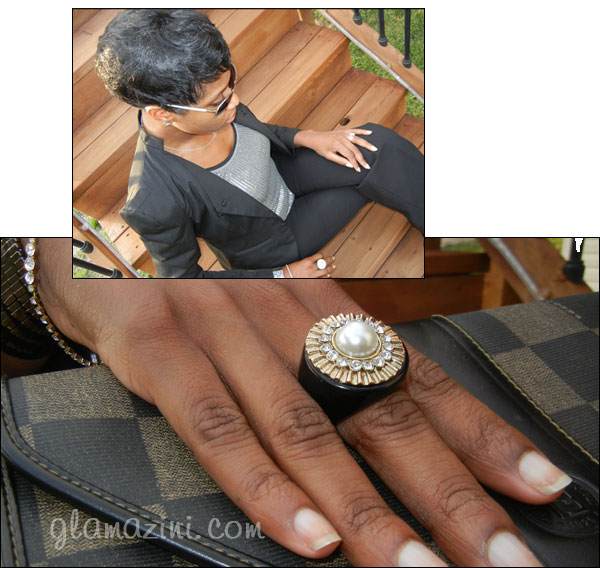 AAAAAAH! *faint*.  I cannot stop wearing this ring (read: I'm wearing it right now as I type this). I also had the happy realization that it matches a pair of  vintage post earrings I own PERFECTLY!  The ring was an absolute steal, marked down from $20 to $14!!  #score
~~~~
While I was in Sears working it out, I remembered that I don't own a black sweater. Yes, I, Glamazini, do not own one black sweater.   I lucked out and found this amazing Ribbed Boat Neck Sweater from Apostrophe (found HERE).  It was marked $36 on the tag but I got it for $17.99, a total steal!
I paired it with the most amazing red slacks ever.  Again from the Kardashian Kollection, these red wide legged trousers with bronze bow belt would be PERFECT for a holiday party (or if you're just feeling spicy any time of the year).  They retail for $78 but were on sale for $49.99, a splurge worth taking if you're in the market for some killer read slacks.  Hubby bought them for me as an early Christmas present. I love him.

As an aside, hubby also insisted I take these pictures wearing my 4″ patent leather granny boots. If you all recall, I hurt my legs and haven't worn heels really in almost 2 years.  I managed *smile*.   Hubby's in fashion school so he helped with my styling and took the pictures (I love him).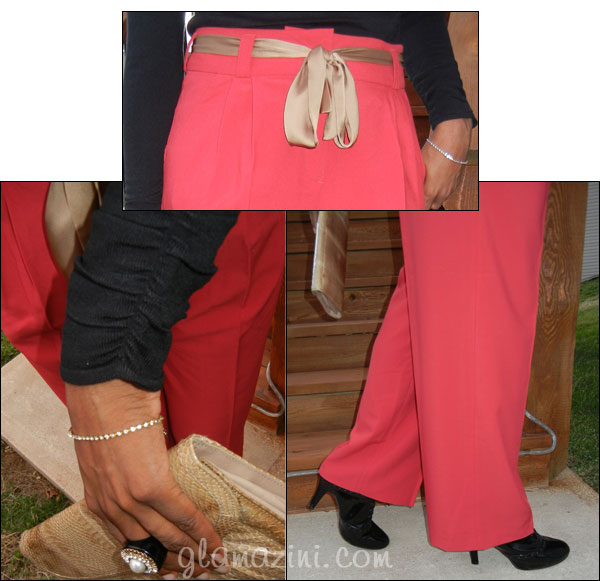 This last set of shots is subtle so don't miss it. Once again hubby strikes by removing my necklace and switching my earrings to something more his tastes (he's not into vintage apparently). LOL.
Tada!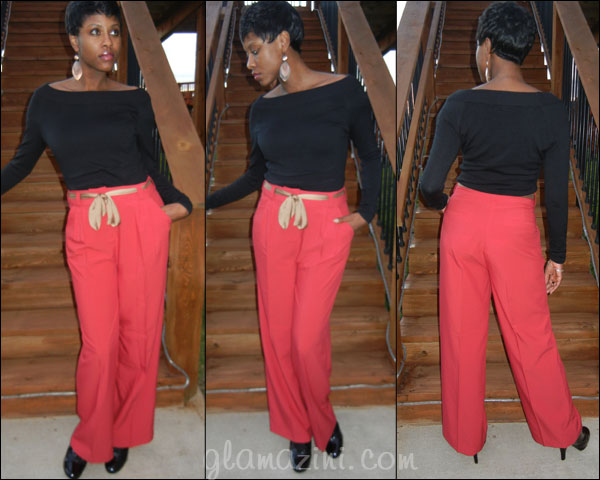 Admittedly I'm still cute.
I'm so happy I was prompted to swing into Sears after all this time. I was so impressed by the Kardashian Kollection, and would have never even thought the pieces would fit me so well (they had some amazing textured tights and leggings, lace back tops and accessories. Nice. ).  I've already worn 3 of the 4 pieces, now to find a place to wear those red slacks!
Have you been to Sears lately?
Until next time Glam Fam I wish you
Life, Liberty & The Pursuit of Nappyness,

@Glamazini | facebook.com/IamGlamazini | youtube.com/Glamazini | Google+
~~~~~~
Disclosure: No monetary compensation was provided by Sears or Glam Media for this post. The opinions expressed herein are those of Glamazini and are not indicative of the opinions or positions of Sears. For more information about the Glamazini.com disclosure policy, click here.