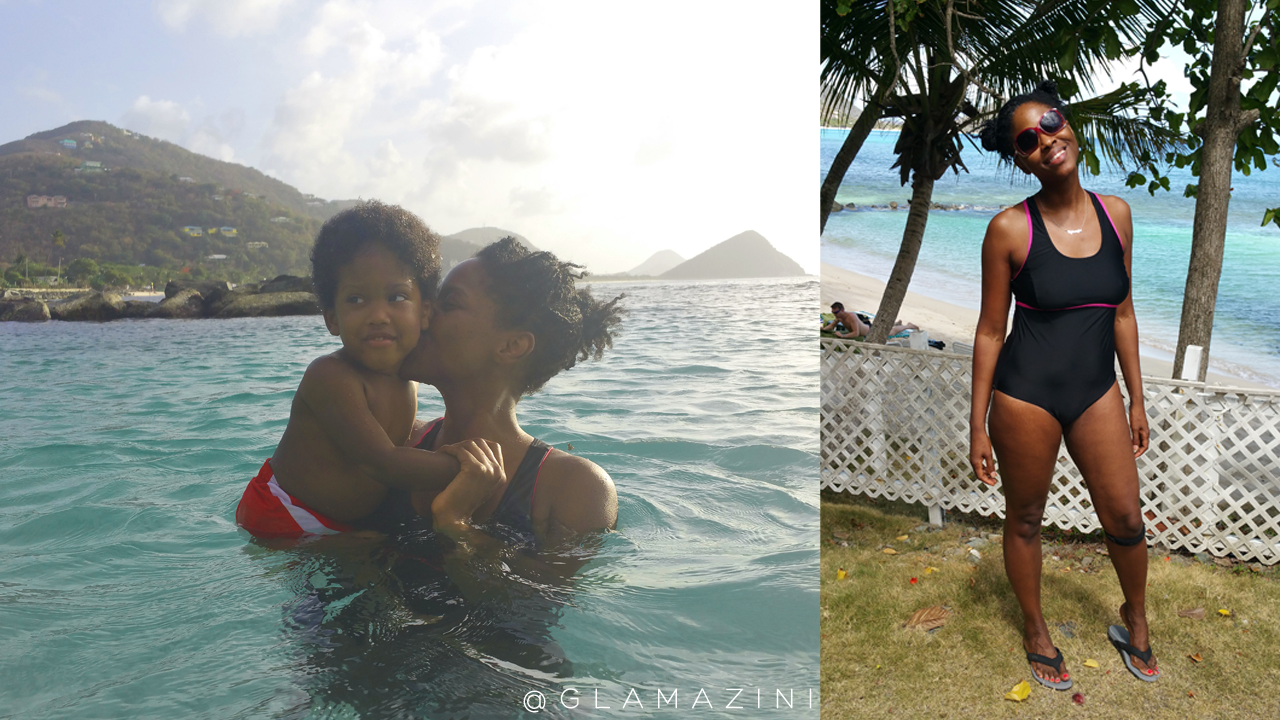 So I was driving home the day before my 40th birthday thinking about how I just *knew* I was gonna be "snatched" or "stacked" or "whatever-ed" the young folk call being in shape by now. Yet … I looked down and my stomach just would not let me be great AND MORE HONESTLY, I was not doing the work to let it let me be great.
Don't get me wrong,
I'm at a weight I love, look great in my clothes, feel cute and all BUT realistically no one is gonna be rocking the yellow bikini she intended if she keeps up like this … and by no one I mean Glamazini.
So, as I drove home … I decided to just be content with the body I'm in
and stop trying to change it. I mean, why not, haven't done that in a long time. Such a novel idea!
Full disclosure: This is quite new to me. For the majority of my life, I've been perfectly fine with my body, until my son Zion came along 4-years ago and did an inside job lol. And well I'm 40 years old so it's like those 2 things coupled together = an entirely different body composition that I'm still getting used to. I've never been curvy so the addition of this reckless belly is … well … new. :-/ I am 100% aware that I have a diastasis recti but the way this summer heat is set up I can't really get into repairing it because the Tupler Technique splint keeps giving me a heat rash. #WOMP #Itriedthough AND … this belly that won't let me be great made a great human so I should cut it some slack (because it is slack … you get it … pun totally intended lol!).
So,
I'm gonna stop striving so hard for the flat stomach I think I "should" have (whatever that means … my therapist always told me to "stop shoulding on myself"), and love the body I'm in. That does not mean I'm going to stop working out, but I'm gonna shift my thoughts from the exterior to health and quality of life. If the exterior follows suit then so be it. I've already picked out bathing suits and dinner outfits that work … alllllllmost had a yellow bikini I liked but not quite. All is well.
Boop. ~ ini
What about you? How's that post-baby body treating you? Do you accept the changes?
Edited to add: Here I am during the cruise in Costa Maya, Mexico rocking a 2-piece. KA. BOOM.