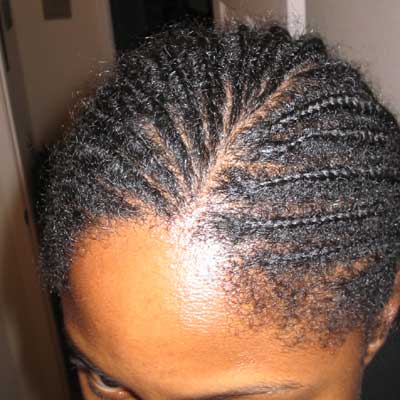 Week 6!!!!
Can you really believe I wore these thing for a month and a half? Especially since I was gonna take them down like around week 3???
$110/6 = $18.34 a week. Yay!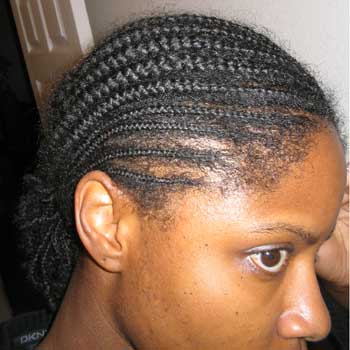 I'm taking them down after this…ya'll pray.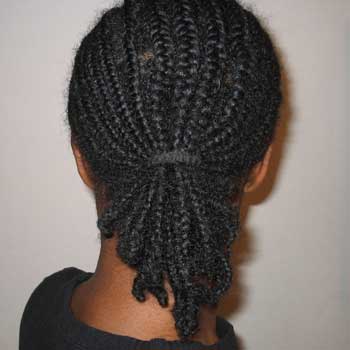 That looks meshy…Lord help me.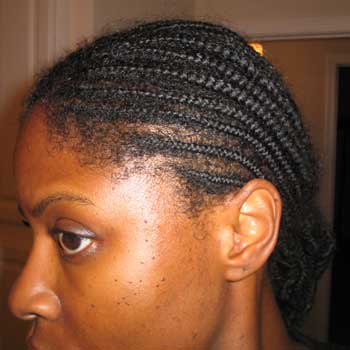 I planned to take my hair down, wash it in the morning and then style it…that didn't happen by the way.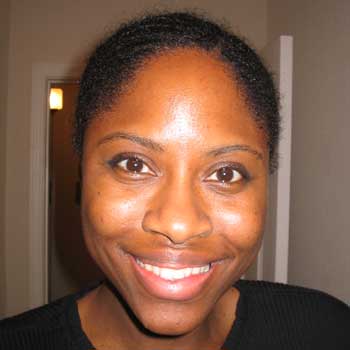 I looked so hopeful then, thought I'd get to sleep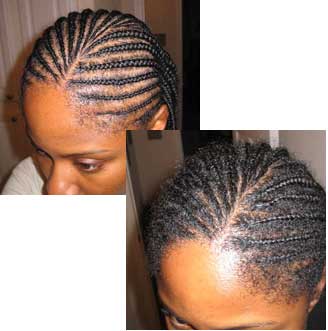 Week 1 compared to Week 6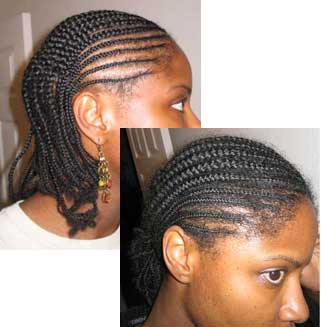 Week 1 compared to Week 6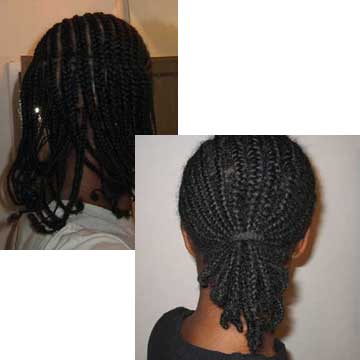 Week 1 compared to Week 6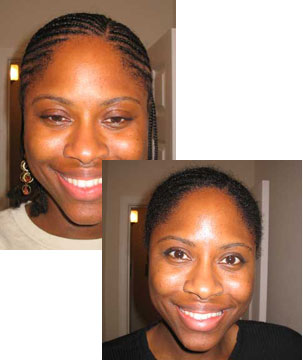 Week 1 compared to Week 6
o.k. time to start taking these bad boys down.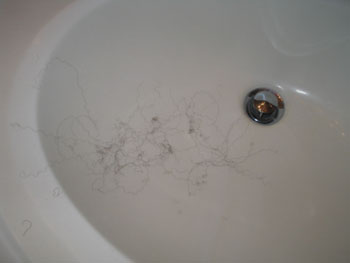 I started at 10:30 p.m. I thought I'd be done by 1 a.m. latest…ha, was I in for rude awakening!
1 braid out and look at all the hair. I'm worried 'cause I didn't moisturize enough….and that braid took a looooooooooog time to come out.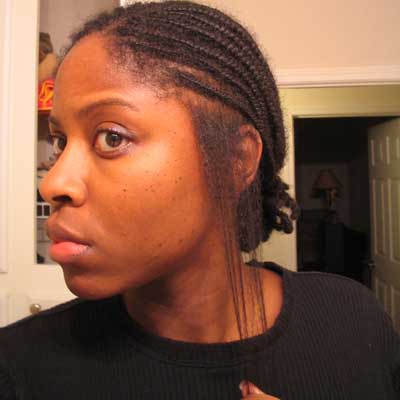 The good news is look how long the sides of my hair are!!!!!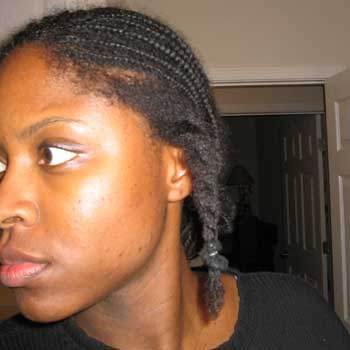 I put every couple loosed braids into 1 big twists for washing in the morning.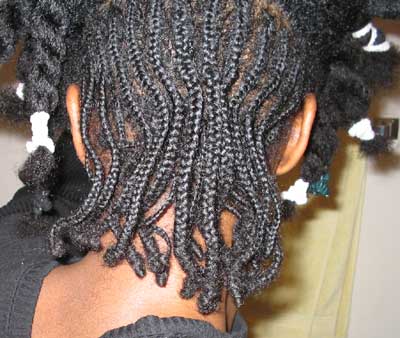 Fast forward …
O.k. I'm done with the entire top and it's late! Here's row 2…all of which are smaller so here I go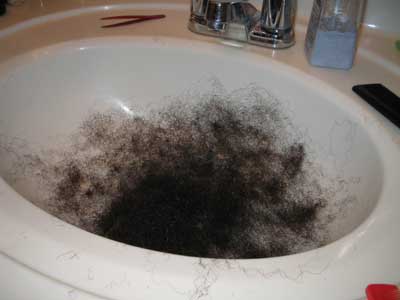 dangit!
This is just from the front of my hair. Mostly shedding but definitely some breakage (I checked strands). Had way too much breakage on the front left of my head (where I sleep). Humbugit!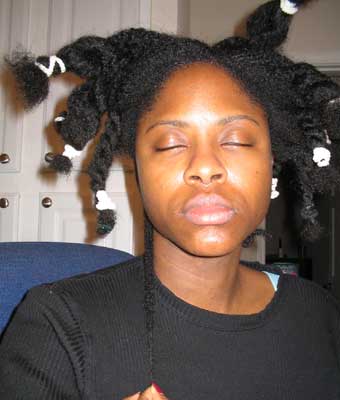 I am so tired, yet still taking photos (you see my dedication to ya'll? I love ya'll)
It's way past 1 a.m. now…notice the chair in the bathroom!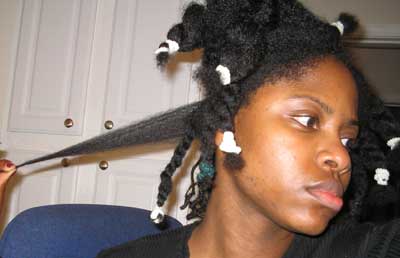 I couldn't stand up any longer so I rolled my computer chair into the bathroom half way through the top row.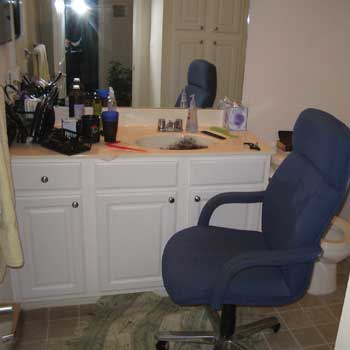 Chair, ball of hair in the sink, drinks, clips, combs and a partridge in a pear tree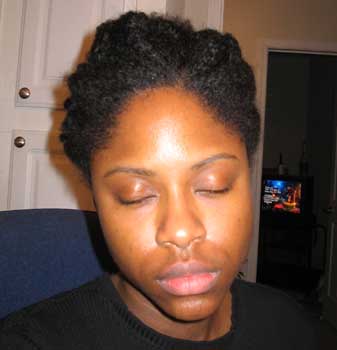 2nd row done

I tilted the TV in my bedroom and watched it in the reflection in the mirror.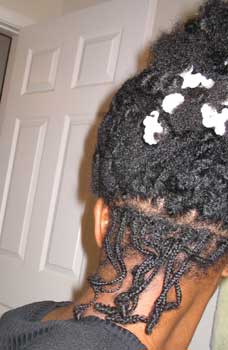 1 more row, the smallest braids…. here we go…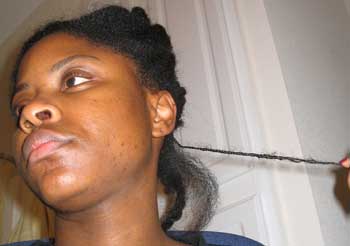 Last braid!




Are you ready for this ya'll? It's 6 a.m.

I said S-I-X a.m. ya'll! That means it took me 7.5 hours to take these down. SEVEN AND A HALF!!!!!




This was officially the WORST style removal experience of my entire life

. It used to be the Box Braid Incident of 2003 but now this has won first place.