I'm back with a new video in my hair removal series, this time showing you how I use a razor to shape my eyebrows.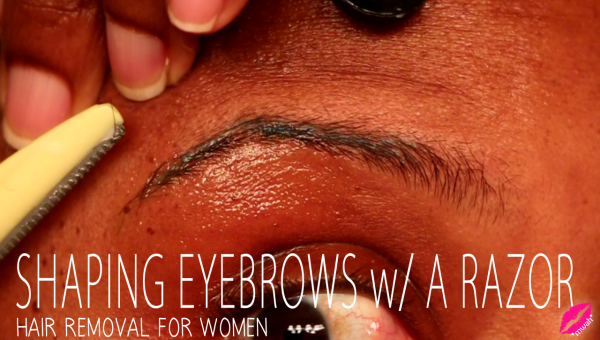 Full disclosure: I rarely use a razor to shape my brows, but since I was doing it I figured I'd share it with y'all. It's quick and easy but razored hair grows back quickly. I only do this when I can't go get my brows threaded and really want an arch.
Alright let's get to shaving.
The razor I use
can be purchased at any beauty supply store. You can also find them on Amazon.com here: Eyebrow Razor.
You will need
an oil of your choice. I use coconut oil and or Vaseline because I can see what I'm doing and they help the razor blade slip.
a eyebrow that needs shaping
What I do
Brush brows in direction of growth
Using a contrasting color, draw in guide for desired brow shape. You can use a stencil if necessary like these Ardell Perfect Brow Stencils.
Apply coconut oil or Vaseline to the area that will be shaved
Holding the razor on and angle, and skin taut, lightly shave the hair in direction of growth.
Clean makeup off the razor & brows with a makeup wipe.
Apply a product that prohibits razor bumps. (i.e. Andis Bump Care or Tend Skin)
I made a video to show you how I do this.
Enjoy!
Watch the video directly on YouTube.
Do you shape your brows with a razor? Leave any tips in the comments below.
Oh and don't forget to checkout the other posts in my my hair removal series. See ya next time.