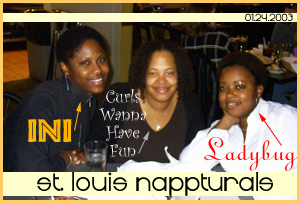 Here are the lady's that got together for the St. Louis Naptural Get Together. We braved the cold weather, ate, laughed, talked about routines and products and had a great time. We will definitely get together again (when it is warmer).
If you missed this get together be sure to look for us on the Nappturality.com message board for the next one (w/ product swap)
~edited~
I no longer live in St. Louis but I've seen the girls on there trying to get together…sooo…if you're in the Lou make sure to check them out!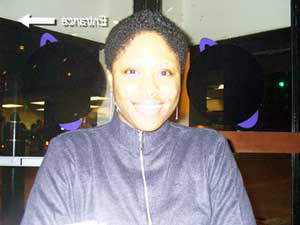 Here's me @ the Nappturality get together (what have I told you about my glaring camera huh????, it almost blinded poor Ladybug).
Hair: Wash & Go with Au Lait Conditioner as leave in. No Poo.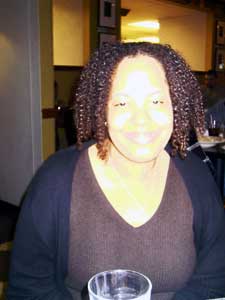 Curls I am so sorry about this bad picture w/ my cheap camera *sigh*. Couldn't fix it for nothing. Redeeming: It's a great shot of your hair! A better picture of CurlsWannaHaveFun. Thanx for explaining the Aubrey GPB to me and watch out for that freezing hair problem of yours in this cold weather *smile*
Hair: Wash & Go with Bumble & Bumble leave in. No Oil, No Poo.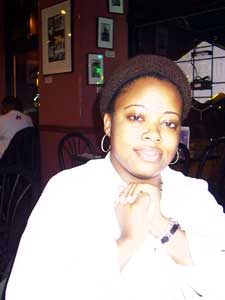 And here's Ladybug

sporting a solid picked out auburn fro. Very nice hair. It took me several takes of pictures of Ms. Bug to get one without her looking like she was hitting the oooooh-eeeeee


…. I'll chalk it up to my bright scary flash
Hair: Picked out, tied back fro. No Oil. No Poo.
July 11th Update: Ms. Bug is now sporting auburn locs…I saw her right b4 I left MO and they were too cute on her!