I want these shoes.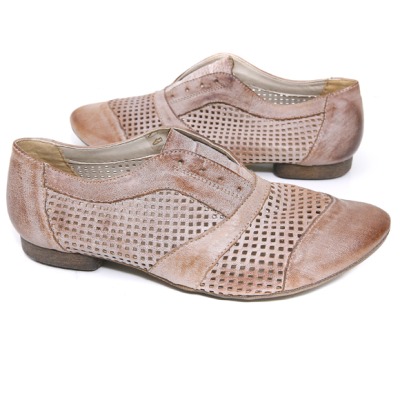 image: barefoottess.com
They are the Boutique 9 'Ildra' Oxford in brown from Barefoottess.com, and come in sizes 11, 12 and 13 (and also in white). My friends tried to hassle me by saying "you want a shoe that looks like it's already worn?*" and my answer was (and still is) a resounding YES!

Besides, it's not my fault they don't have the vision

… everyone can't be Glamazini.


…

Anyhoo, I'm still stuck in flats only (well I can wear up to an inch heel now

) and I think these real leather, perforated oxfords will be PERFECT for the spring, summer and fall. My orthodic should fit just fine, and my feet should be able to breathe well with all the holes (my feet sweat, don't judge).
Can't you just see me strolling around with a pretty floral dress, these shoes, a scarf and a beret

… or even wide legged linen slacks, a loose top and these suckas! COME. ON?!

I'll let ya'll know if I conjure up the $140 to purchase (or a coupon, seriously).

Stay tuned.