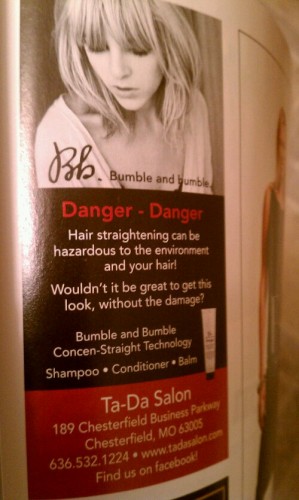 So I'm perusing the most recent edition of St. Louis Magazine, when I come across this advertisement for Bumble Bumble Concen-Straight apparently being offered by Ta-Da Salon in Chesterfield Missouri.
I've never heard of the product or the salon, but the description on the website says
"A gentle yet potent, single use straightener – plus heat tools – smoothes hair for manageability and frizz reduction for up to 30 shampoos.
Formulated with Concen-straight Technology™ (patent-pending), which helps maintain hair's natural integrity. Formaldehyde free. Cysteine free. Lye free.
– source: bumbleandbumble.com"
Interesting indeed.  Seems like some sort of heat activated straightener that can last for a pretty long time (assuming you wash your hair every 1-2 weeks).  Yet it's not what caught my attention, nor is it what made me take the photo above. The words
"Danger – Danger Hair straightening can be hazardous to the environment and your hair!"
are what stopped me in my tracks.  I actually chuckled when I read it and (I'll keep it real) thought "Only in a magazine geared toward white folk could that honest statement be written so non-challantly without some kinda uprising".  I later thought my internal statement to be mildly un-P.C. but it is what I thought *shrug*.
At any rate what was your gut reaction when you first read this advertisement? Have you heard of this product?
Until next time Glam Fam I wish you
Life, Liberty & The Pursuit of Nappyness,

@Glamazini | facebook.com/IamGlamazini | youtube.com/Glamazini | Google+

~~~~~~
Disclosure: For more information about the Glamazini.com disclosure policy, click here.