I'm back with more hair shots, this time from a month or so ago before I skipped on over to my friend's bridal shower.
I washed my hair, then twisted it into big sections securing each twists into a bantu knot to keep it stretched. When completed, I took each bantu knot down one at a time and wrapped the twist around my head, securing it with a bobby pin or two.  When I was done, I ended up with "wrapped twists" per say.  I then tied the front down with a satin band, then tied the entire thing with a scarf, sat under the dryer then slept on it.
Before we continue, let's have a moment of silence for my eye makeup.
.
.
.
.
Ya'll I got that make up FREE during the diva swap at #StLSocialMediaChicks weekend. It's Avon & if I remember to I'll tell ya'll about it later.
Moving right along …
After I took the twists down they were totally stretched out, to the point where later that night I was asked if my hair had been blow dried.
This was a pretty simple style. The twists seemed to go to 1 side on their own so I just clipped them over there with my small Goody Ouchless barrette and left one out in the front hanging.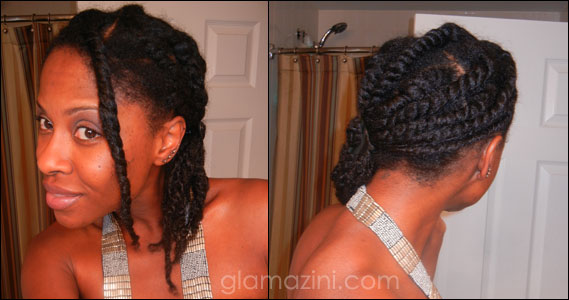 If you're wondering what I have on:
Strapless jumper from Long Tall Sally
Necklace I got off clearance at Nordstrom Rack
Bracelet from TJ Maxx
Silver flats (pictured here) from Payless
Until next time Glam Fam I wish you
Life, Liberty & The Pursuit of Nappyness,

@Glamazini | facebook.com/IamGlamazini | youtube.com/Glamazini | Google+
~~~~~~
Disclosure:  All items mentioned were purchased for me by me or given to me for free during a swap.  For more information about the Glamazini.com disclosure policy, click here.