I'm re-doing the 31 Day Reset Challenge in mass.
Read days 1 through 5. 
Day 6  • Create a Life Map
Click image to enlarge: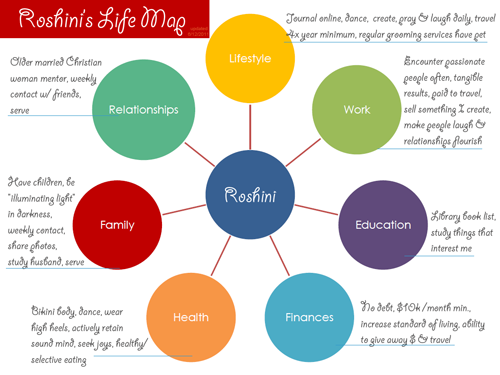 See day 6 the 1st time I did this challenge.
Day 7  • Write Your Ideal Life Narrative
I wake up every morning and do something I love. Money is made either doing this thing or from another source that allows me to still spend the majority of my time on what I enjoy.

My family has a home on the U.S. mainland and one in the Virgin Islands were we split our time during each year.  These homes have character and are alive with beautiful honey colored floors or large earth colored tiles, lots of natural light, sky lights, ample open space, a sound system wired throughout the house, big fat molding, comfortable seating, quiet nooks, a courtyard, and neighbors that create.  I have 3 healthy vibrant funny children of both genders, a curious cat (who sheds minimally), a house-trained yorkie (with a cute face like an ewok), an abundance of plants, loud uncontrollable laughter, random spontaneous dance, constant music and big and unbridled art. My family actively pursues good relationships.
My family attends a church we adore every week and we are all active in varied ministries.  
I sleep 7.5 – 9 hours every night and wake up  between 7-9AM refreshed. Every day I exercise, pray, shower and get fully ready, eat a good breakfast while looking out into the

morning light

and drinking good coffee. I then go to my office/creative space to do some w.o.r.k.  I run errands in the early afternoons, spend time with family and continue my work in the evenings. I always have a book checked out of the library and pick 1 hobby to study in-depth every 6 months just to perfect it and see if it can become more than just a hobby. I attend conferences 
and take classes that interest me.
I am surrounded by positive, passionate, creative, like-minded people.  My day is never the same so I'm always challenged and rarely bored.  My blog & YouTube channel are flourishing beyond my wildest dreams.   I earn more money than I ever imagined possible and have a dedicated space to film my videos with

good lighting and sound

. My workspace is open, personalized, fun, smells good, peaceful and has lots of natural light.
Every two weeks I get a manicure and my eyebrows threaded. Every month I get a massage, pedicure and a facial. Every year my husband and I go on at least large trip.  I have a surplus of income that I use to bless others and fund a scholarship for people (young or not so young) who want to pursue creativity in any form.
My friendships are thriving and I make time at least once a year to get all my girls together and to something fun as a group.
Day 8  •  Reflect, Comment and Connect
I'm not going to redo this assignment.
See day 8 the 1st time I did this challenge.
Day 9  • Do One Thing
OMGeeeeee!!!

Last time I was whining about having an inkling what to do and not wanting to do it and while re-tackling this assignment I realized SINCE THEN I DID IT!!!!

 SCORE BABY!!!!  I won't go into details to protect the innocent but lets suffice to say I've done specific things to reach out to a

 difficult family member.
Moving right along … this has been a nebulous area in my brain (to put it lightly).  I did a huge "analysis table" in this post then decided to delete it after returning to this post a few days later.  A few days ago my therapist mentioned "picking one thing" during a discussion about me feeling like a "Jane of all trades master of many" LOL.  Basically he said if I'm good or great at several things then it's really a choice between "good, better and best" or "great, greater and greatest".  I realized I've been so afraid to pick one thing thinking it would be the wrong choice, but if I truly believe I'm great as several things then he has a point … no choice is "the wrong choice" so I might as well pick something. 
I'm already doing several "one things" in many areas, for example
art = I'm taking art classes all summer
blogging/vlogging/editing videos/natural hair = I have this blog, my vlog & edit my own videos
taking & being in pictures = I take my own photos
picking outfits = just personally love doing this
helping other re-define their look = have done this for several friends
dance = I choreograph for our church's dance ministry
self-discovery = I'm constantly reading, studying, I&
#39;m in therapy, the list goes on
travel/cruises = I travel often and blog about it here
So I'll do "one thing" in bullet #1 and find out how to make prints of my art work so I can set up an online shop to sell them.   

   GOODNESS THAT WAS HARD! 

See day 9 the 1st time I did this challenge.
Day 10  • Make a Bucket List  
I always maintain a bucket list.
See day 10 the 1st time I did this challenge.
Until next time Glam Fam I wish you
Life, Liberty & The Pursuit of Nappyness,