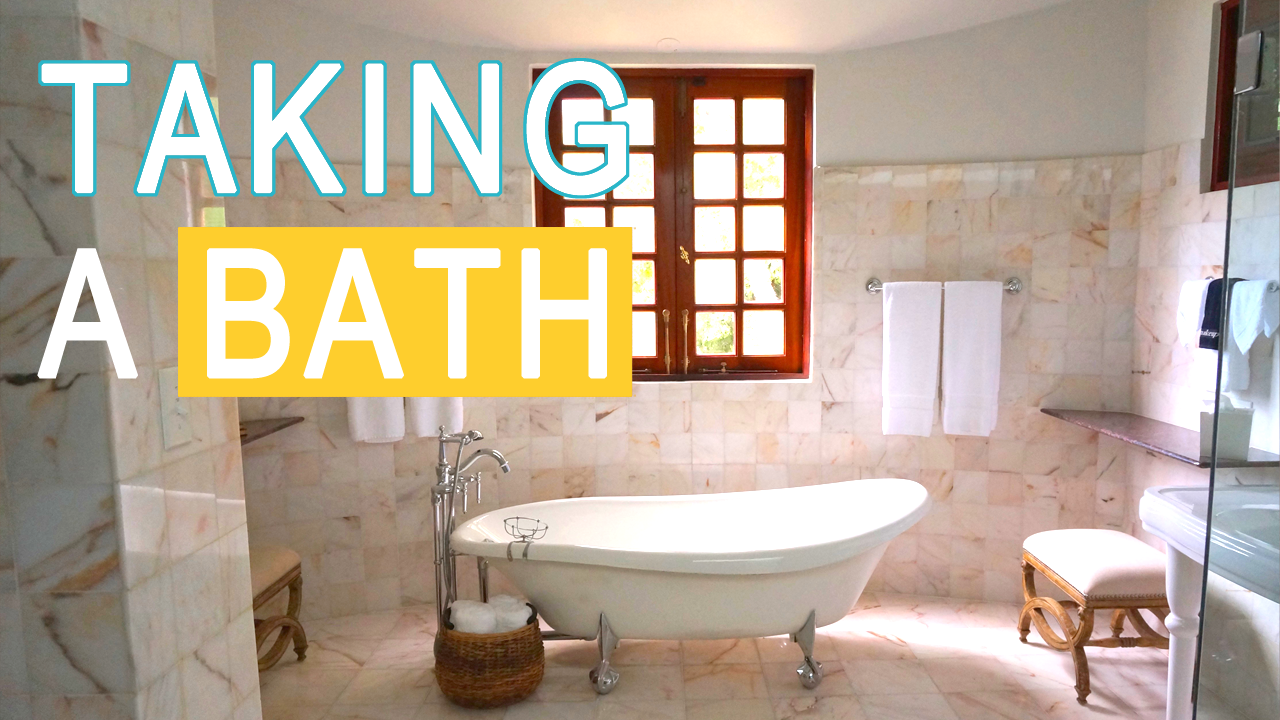 Lately, I've been taking baths.
Yes yes, I know, totally random but stick with me, I'm going somewhere.
A few months back I got lash extensions. After application, there's a 48-hour curing period where you can't get the extensions wet or expose them to excessive rubbing or steam. My lash stylist suggested that I take a bath the first 2 days. With subsequent refills, the same 48-hour curing period applies, and therefore the same 2 days of bathing. I've had 1 initial set and 2 rounds of refills so that equals 6 not-just-for-relaxation baths-functional-to-get-myself-clean.
I haven't done a "not for relaxation" bath in YEARS … probably since I was a child if I'm remembering correctly (although come to think of it I may have done one or two after some surgeries). While sitting in the bathtub this AM I got to thinking about how I'm starting to view this whole "bath as an adult" thing differently.
Let me rewind a bit.
When I first started doing these 2-day bath stints in October, I was clumsy and had no clue what to expect. I dragged a bunch of stuff into our guest bathroom, filled the tub, added smellgood oils, and plopped my grown butt down. Needless to say, the build up was worse than the release. 😐 There I sat, all 6 foot 1 inches of me (read: can't barely fit in the tub comfortably), up to my tatas in warm water (not hot 'cause remember, I'm trying to avoid steam), and I realized not only was I uncomfortable, I was cold (from the tatas up). The room had steamed up a bit from the too warm bath water (#steamavoidancefail 😐 ).
Then I start to actually bath (read: soap and a washcloth action commenced), and to my utter and complete HORROR dirt … like actual D.I.R.T. started coming off of me and depositing itself into the bath water … THAT. I. WAS. SITTING. IN!!!
Ew.
"Who thought of this?!" is all I could muster as I sat there in a stew of yesterday's dirt trying to pretend I was doing anything close to cleaning myself. I couldn't believe I'd never really processed how gross the whole thing was before this. Maybe it's because the purpose was always to relax? Or maybe it's 'cause 9 times out of 9 there were bubbles hiding the liquid dirt below.
E.w.
At any rate, I fumbled through the rest splashing around like a seal in an oil slick until I finally tapped out, drained the tub, and caught wind of the aftermath. Now, I'm not sure why this is or if
it's
normal, but does anyone else produce so much dirt that it's coating the sides of the tub after it drains … or is that just my big butt? The oils I'd added to the water didn't help the situation, as oil and dirt just clung to the sides of the tub for dear life.
Not a good look.
After rinsing myself with the handheld shower (super carefully), I scrubbed the tub with Comet, collected all the crap I'd brought in for no apparent purpose, and retreated out of the guest bathroom confused and mentally scarred. I even tweeted about it #becausepriorities.
Most of my subsequent bath experiences were similar (although I did bring less stuff with me, learned not to add anything to the bathwater and put a container of Comet in the guest bathroom so I wouldn't have to lug it over every time). I must even admit that I skipped the bath once and tried to do a very careful tepid hand shower wash off but it was cold and unpleasant so I went back to the bath.
Fast forward to this AM.
I grabbed my shower cap, robe, towel and washcloth like a pro, and traipsed over to the guest bath without a care in the world. I'd already ran the bath while I was brushing/flossing and washing my face (a lesson learned) so it was waiting for me at the perfect temperature. The room wasn't steamy because I left the door open (another lesson learned). I grabbed the soap and slid into the tub with precision. This time I knew what to expect and had a strategy so it was less traumatizing. I did a preliminary scrub down sans soap using just my washcloth and water. Strangely I found this to be quite relaxing, especially in the silence of my house in the morning (hubby was just waking up). I should've had music going (I'll do that next time).
After the 1st round, I added the soap and did it over again. As usual, the water began to get cloudy and gross but, since I knew I'd be doing a "post-bath-hand shower-wash off" I had no worries. I hit all the spots that count, pulled up the drain to let the water out, got up out the tub without trying to combat the rings around it one bit (yet another lesson learned), and hit my (mildly cold but not too bad) body with the hand shower spray one good time (spraying lightly toward the wall so I didn't have to mess with the shower curtain (yep, lesson learned). As the water drained I rinse my feet, grabbed my towel, and exited the tub. After putting on my robe, a quick dash of Comet and a few swipes of the scrub brush and the tub looked like I'd never even been in that puppy.
Like a pro suckas!

And I was clean.
I must admit that I still find it gross to take a bath, but I'm dealing. It's definitely the worst part of having these lash extensions but like mama used to say "no pain no vain'. Besides, lately, I'm finding the bath experience to be kinda relaxing after all, even though it's all about the functional aspect now. I also have to add that it's hard to clean the undercarriage when you're sitting on it … I'm just saying. #tmi.
Are there any adult pro-bath takers out there? I know some older homes in St. Louis don't even have showers so I know yall are out there.
Share your "taking a bath" tips please, I'm so interested.
I might keep doing this every once in a while. I was actually quite fast this morning, so fast I shocked myself.