If you are a tall girl with big feet life just got better.
Yesterday I logged onto LongTallSally.com to do a bit of "window" shopping in their dress section when I see this in the top navigation:

You guys already know how I feel about Long Tall Sally and I've stalked shoes on Barefoot Tess for years but never purchased. Well you can imagine my utter indescribable GLEE when I saw they had hooked up! Say what?
I clicked on 'Read more >' and saw this message:
Dear Customer,

Barefoot Tess has teamed up with Long Tall Sally – the world's premier fashion destination for tall women. Together we are your ultimate one-stop shopping destination!

As you can see we are offering the same fabulous shoes in sizes 10-15. Plus, we've expanded our selection with sensational new styles.

Please be patient for a short while as we merge warehouses. Delivery times may be affected for a week or two but we will aim to deliver your products to you as fast as possible. We remain dedicated to continuing to offer you the very best footwear in extended sizes.

Yours in style,
from the owner of show website BarefootTess.com, Karen Williamson.
<insert happy dance in my 6'1″ body on my size 12-13 feet here />
So now you can visit one website, LongTallSally.com and find a HUGE selection of stylish footwear in sizes 10 to 15 compliments of Barefoot Tess.  As always, you will still be able to purchase clothing proportionally designed for tall women  in sizes 4-20.   I am happy, so much so I put together this demonstrative graphic: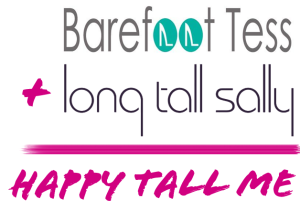 That says it all.
Get your shop on at LongTallSally.com and check out the Barefoot Tess selection by clicking HERE.
p.s. This is not a sponsored post, I just got happy and wanted y'all to know. I should just try to work for this company. Long Tall Sally, I need a job and you want me to be your brand ambassador. Call me.