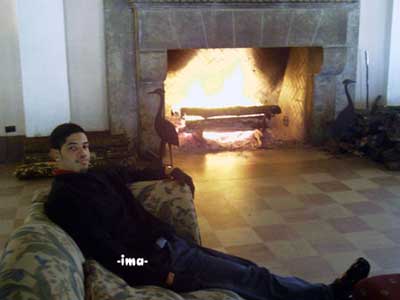 Tallahassee Nappturality Get Together # 3
Well we braved the cold weather and held the third Tallahassee Get Together at the Wakulla Springs State Park in Wakulla Springs Florida. Here's my boyfriend Adima baking in front of the fireplace at the lodge while we waited for them go get our table ready.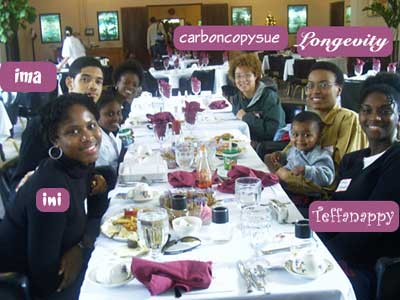 We had 9 people in total, 5 are posters on the Nappturality.com forum (those w/ the screennames shown).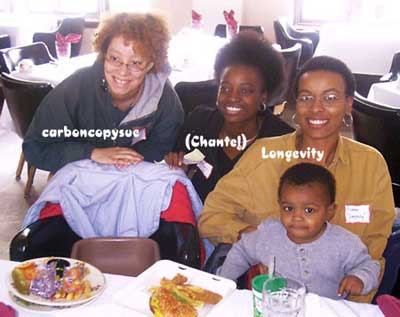 Here's carboncopysue, her friend Chantel, Longevity, and her 1 year old son (he is the cutest thing ever!).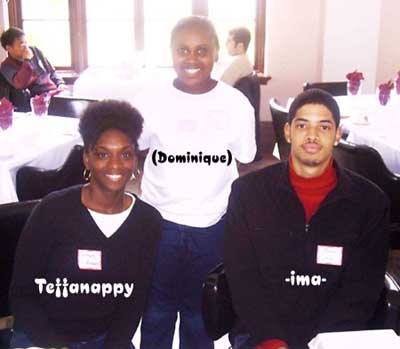 Here's Teffanappy, Longevity's guest Dominque and -ima-.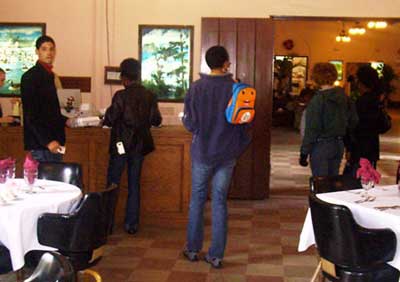 Here we are in the lodge paying for out food and heading down to the boat dock to go on a river tour.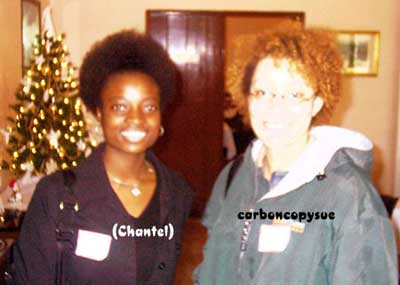 This isn't the best picture (sowwy sue) but here's Chantel and carboncopysue again before we left the lodge.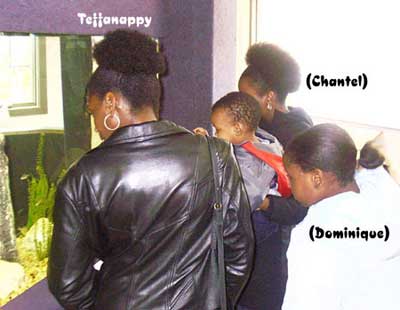 There's an aquarium down in the boat tour house by the dock w/ fish and 2 turtles in it. Needless to say everyone was mesmerized by the tank.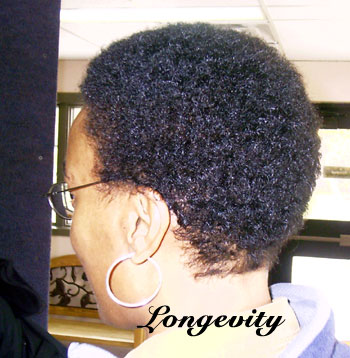 Longevity with her sharp TWA. She stopped relaxing her hair because after her son was born a perm wouldn't take. He figured, what's the point?
Hair: Beautiful TWA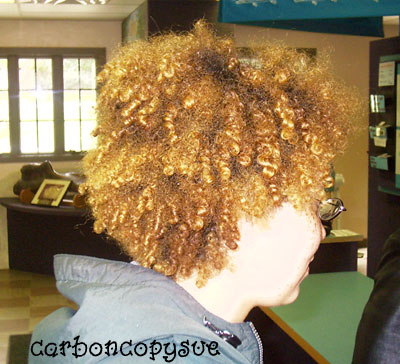 Carboncopysue with her golden wash-n-go. Chantel was her inspiration and I thought it was nice that she brought her along

. She said her real hair color is dark brown (you can see a little at the roots) but I thought this color looked really great on her.
Hair: Wash-n-go fluffed with her hands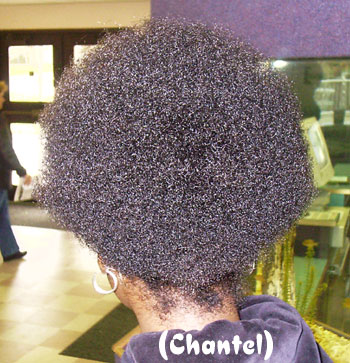 Chantel with her big afropuff. Chantel is not a member on the Nappturality forum and she said she doesn't know what to do with her hair. She wears it like this most of the time and combs it out every night! I thought the puff was beautiful :).
Hair: Combed out puff.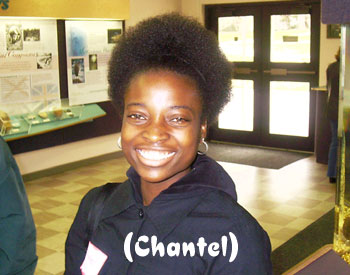 After I snuck up on her puff and took a picture *ha* she insisted I take a face shot too.
Hair: Combed out puff.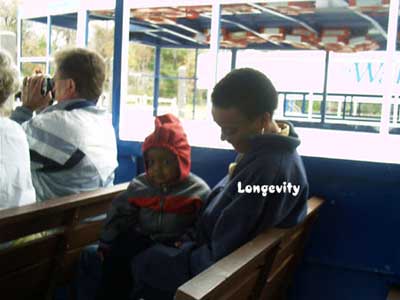 It is 44 degrees and we are on a riverboat about to go on a tour. It is cold! What are we doing!!!???!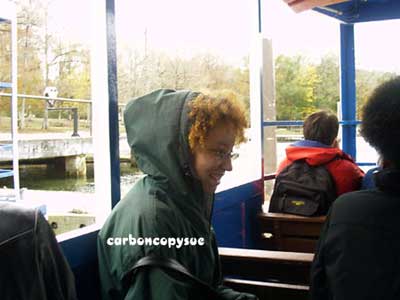 Carboncopysue had the hood on (so did I) but poor Chantel was sitting next to her freezing

o.k. it wasn't snowing but it was cooooold *brrrrr*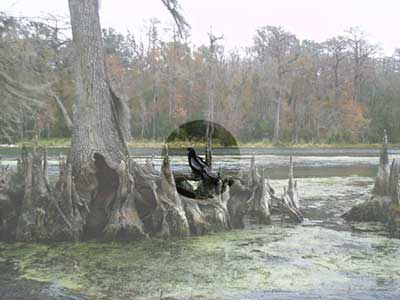 Here's a male Anhinga!
The anhinga is a water bird that does not have oil glands for waterproofing its feathers like most water birds. When it goes swimming its feathers get wet. This helps it dive and chase fish underwater. However when it is above water, it must spread its wings to dry in the sun. It can fly with wet feathers but not as well.
The adults have beautiful white feathers. The long tail has given the anhinga the nickname, "water turkey". It is also known as the snake-bird because of its snake-like neck. The female anhinga is easy to spot. Her neck and chest feathers are much lighter in color than the male.
The anhinga spears his prey with his pointed beak like an arrow. Sometimes the anhinga's thrust is so powerful that the anhinga has to swim to shore and pry the fish off his beak by rubbing it against a rock.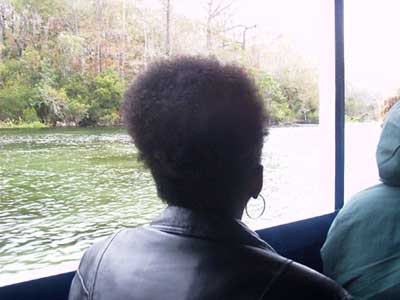 Teffanappy was sitting in front of me so I took a picture of her puff. She usually wears it like this or with a headband in the front. Beautiful

Hair: Picked @ the roots only puff (nice and dense…lots of hair up there

)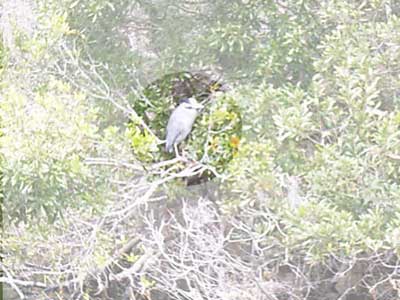 I can't remember (or find what kinda bird this is). When I do I'll post info.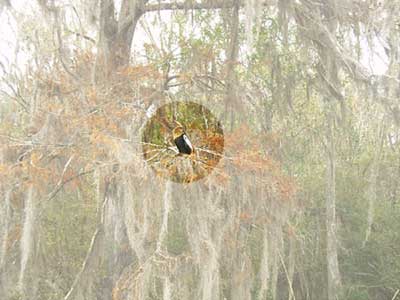 This bird was beautiful and was soooo posing for us! I can't find out what kind of bird this is. When I do I'll post information.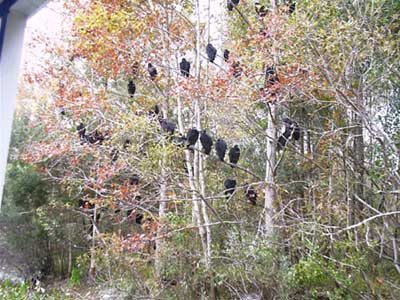 VULTURES EVERYWHERE!!!!!
*ick* Here we have black vultures. At one turn in the river they were on every tree branch and it was really really creepy! They were surrounding the boat and never even flinched when we floated by. And boy were they UGLY!!!!!
The Black Vulture is most frequently seen in the warmer parts of the western hemisphere and is probably the most numerous bird of prey. Their main food is carrion, but they also kill some young or defenceless wild or domestic animals. They spend much time in the area of refuse tips and slaughter-houses, or anywhere meat in any form (fresh or putrid) is available. They also eat eggs and, if pressed, ripe and rotten fruit and vegetables, including oil palm nuts.
It is not unusual to see two or three hundred gathering at the carcase of a large animal, with thirty or forty at one time struggling for food, whilst others wait on, frequently soaring overhead.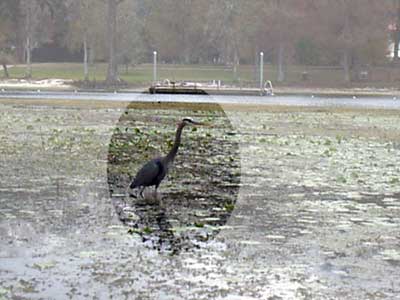 Here's a Great Blue Heron! The wingspans on these things are incredible!!!
The great blue heron lives in and around salt and freshwater environments. They are blue gray in color with a black stripe above each eye extending to the back of the neck as a plume. Black streaks occur on a white foreneck. The bill is long, large and yellowish. The legs are long and grayish with reddish thighs.
Great blue herons are between 38 and 54 inches in length and have a wingspread of up to 6 feet! They eat fish, frogs, salamanders, snakes, small mammals, land insects, birds, and some plants.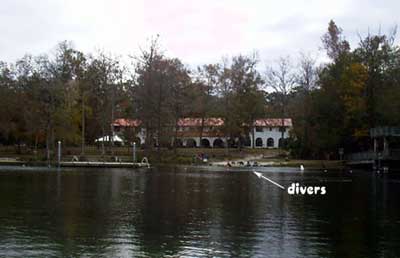 On our way back to the dock I took a picture of the lodge from the water. I would also like to point
out the (professional) divers diving in the 40 degree weather!!! The tour guide said the water temperature is 60-70 degrees year round, and for their sake I pray she's right.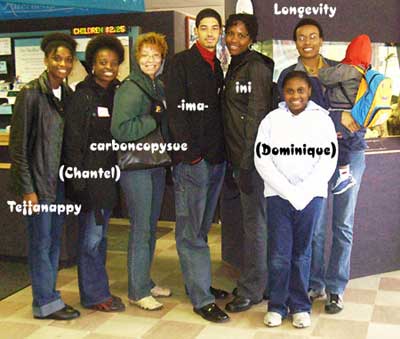 So here we are! Thanks everyone for braving the (freezing) weather and coming out! Next time we'll stay inside if it's cold AND we'll swap products.
See ya'll next year!