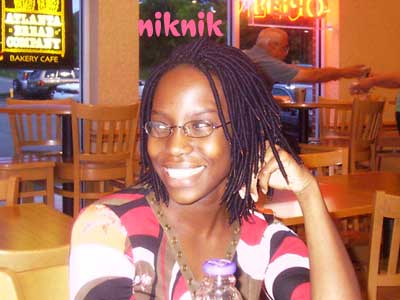 Tallahassee Nappturality Get Together # 5
We had yet another Get Together and 5 of us showed up to eat and chat at the Atlanta Bread Company. It's funny, we always have new people each time but only a few returners. If everyone came at once we'd have an awesome turnout. *shrug*
Anyhoo, here is niknik wearing yarn wraps. She started locs w/ 2-strand twists recently and had them wrapped with yarn. I'd never heard of such a thing, but it was cute!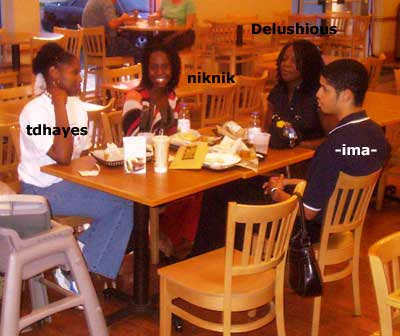 Here we all are just talking away. tdhayes was in town for a graduation and Delushious was on her way out of town for the summer.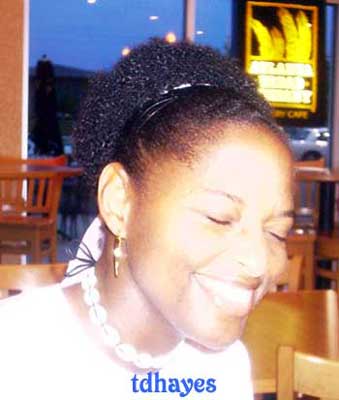 When tdhayes saw this picture she goes "Does my hair look like that?

". I reassured her that, "Yes, that beautiful puff is yours".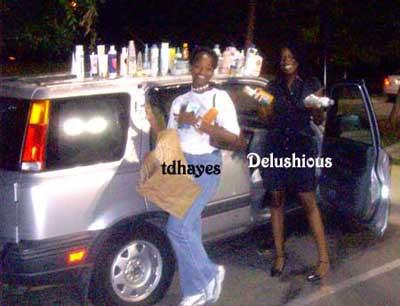 Delushious informed us that she had a garbage bag full of products out in her car and she was threatening to throw them all away. We couldn't let this happen so we sprung into action in the parking lot divvying up the stuff. The girl needs deep therapy.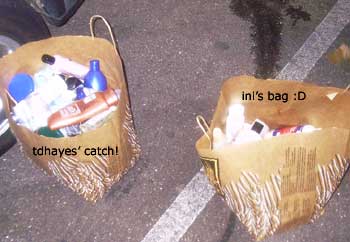 Niknik is not a product junkie so she only left with 4 or so things. These are the bags that tdhayes and I left with. Mine is 1% hand lotion and 1% SLS-free shampoo. The other 98% is, you guessed it, CONDITIONERS!!!!!
'scuse me while I


<——-happy conditioner dance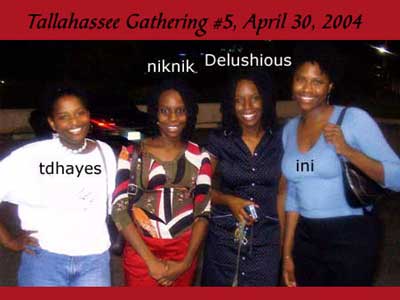 After hanging out in the parking lot digging through products (as well as trying to identify a strange insect) we packed up and were ready to leave.
I had the best time ya'll! Lot's of laughing and silliness. Niknik I hope we didn't scare you off (we really are sane….I think

)
See you next time Tallahassee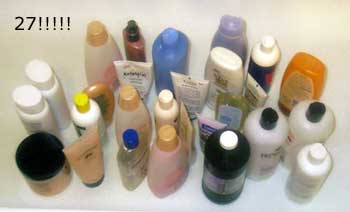 When I got home I rinsed off the bottles in the tub (something spilled in the bag) and counted 27 items! Now, tdhayes had about 40% more stuff than me so let's guesstimate she left with 38 items. Now let's add in niknik's 5 items and the approximately 30 items that Delushious threw away. That would mean that she brought approximately (drumroll please

) 100 different products!!!!. I told her she needs to start investing in mutual funds and not shampoos and 'hair fixers'.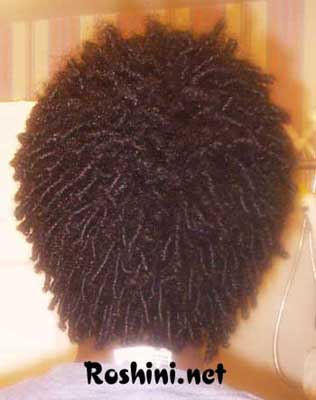 Well, the strawset has lasted me (kinda) 2 weeks!. Even though it's evolved into a fro with coils I was still getting compliments up to the last day. I'd call that a major success! That night I slathered my hair with Lustrasilk's Herbal Cholestrol Deep Conditioning Creme*, covered with a conditioner cap, tied with a scarf and went to sleep.

Yes, this is one of the items I got from Delushious earlier. My take on conditioner is this: Even if it's not a good conditioner I can used it to detangle. This was the case with this stuff. NOT a good conditioner at all in my opinion, but great for creating the slip I need to detangle.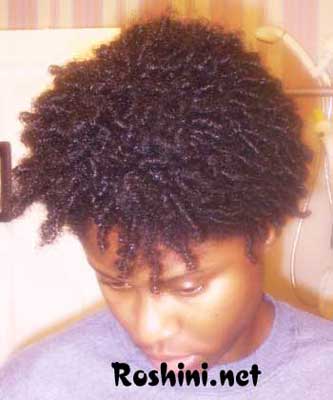 Here's the front, which was doing it's own thing. Guess what I did the next day after I detangled?!
I shampooed my hair!

As I don't do this* this was a big deal. I used another product from Delushious: tcb detangling conditioning shampoo. I'd been spraying my hair with oil for 2 weeks so I thought I'd give this shampoo a try as it's SLS free and I need a good cleaning. It worked great! I'll post pictures of it in my product section soon.
* I loosely follow a 'no-poo' routine. Read more.