This is the day of my first big chop right before the appointment. I had 3 months of new growth so it's really big hair under there.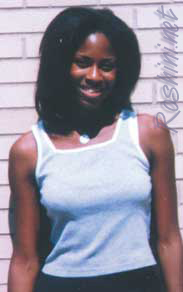 I decided to go natural mostly because I was curious. Everyone must be hair tested for drugs at my job and the lady that did my testing cut out a very large chunk of my hair in the back. At first I was ticked but as it began to grow back in I could not stop playing with it (pre HIF). My hair felt sooo soft, and my entire life I believed that my hair was hard and 'nappy' (that was bad back then 'cause I did not know the definition of the word nappy).
The next year I became curious again, took a scissors and cut off yet another lock of my hair near the front. To my amazement my natural hair texture in the front was totally different than the texture in the back.
Well, curiosity got the best of me and on September 13, 1998 I went to the barber and had him cut it all off. It was 17 inches of hair in total: 14 relaxed and 3 natural.
~~~~~~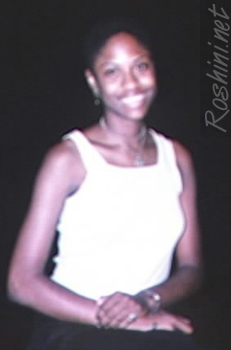 This is not the best photo (sowwy) but this is right AFTER my first Big Chop. You can barely see my brand new TWA…but you can sure see the big ole smile on my face

.
The barber asked me repeatedly if I was sure that I wanted to do this. He said that women came in there demanding a cut and then afterward began crying

. I was sure, and so to the shock of every woman in there I sat as he cut off all 14 inches of my relaxed hair. He asked what my natural hair does when it's wet and to my embarrassment I had no idea!
After he cut and washed it he spun me around in the chair and handed me a mirror. I sat silent for a while and then exclaimed "Wow! My neck is sooooo long!". How wonderful! I had a long neck and a strong jaw line I had barely ever noticed before. I got 4 compliments that day, including one from my friend's 7 year old son who begged me not to cut my hair off but then, upon seeing me, said I looked pretty "like Jada Pinkett". Out of the mouths of babes….