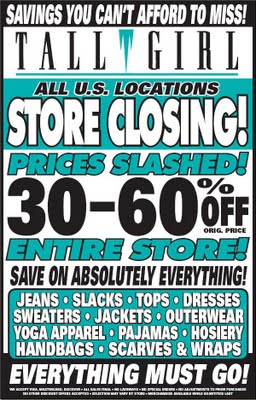 OMG I'M BEYOND TRAUMATIZED RIGHT NOW!! 

My favorite clothing store is closing in the USA

It's the ONLY store I can go into and everything fits

…
it's the ONLY all tall store in MO

….
it's where I get the majority of my outerwear and pants

….
it's where I've been shopping since college in PA

…
it's brick and mortar so I can try things on not just guess what it fits like

…
it's consistent and I know how their stuff fits me so I like that

I'm about to cry

… seriously people, you take it for granted that your size is in stores (clothing and shoes). UGH!!!!!

The mall store is still there for 5-6 weeks

(I called). 30% of some things 50-70% off most things. I'll go tomorrow to look for a coat for mommy and grab whatever else I can carry on my head & back.
I'm so traumatized right now!!! It's so hard out here for a Glamazini!!