In my head I live in a world where I can afford to shop wherever I want to shop, and one of those places is definitely Long Tall Sally, a retailer specifically dedicated to providing fashionable, well proportioned clothing for glamorous AMAZONS (tall women) like myself.  You gotta love that.
You guys have heard me talk about my roller coaster relationship with Long Tall Sally before.  They are definitely on my good side right now, and I just received their new catalog in the mail and, as usual, made my wishlist of things I want to buy by marking them in the book.  I do this every time they have a new collection, but then it dawned on me … why not share my wish list here with my readers? Duh Roshini!
So I present to you my very first
Long Tall Sally Wishlist ~ Spring/Summer 2014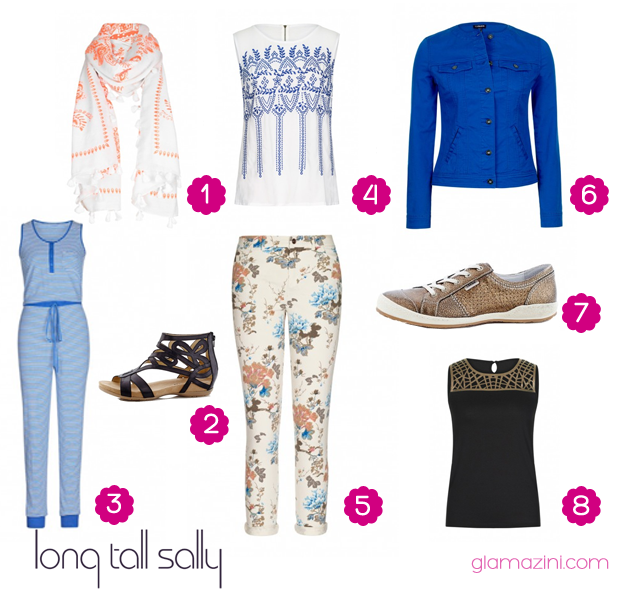 Most of the items pictured above are available in their new collection, all are available on LongTallSally.com.
Here we go:
I'm a sucka for a great scarf. I rock them all the time and feel like they are a quick way to add UMPH to an outfit, and immediately turn a drab look into a fab look with little effort. Here in St. Louis it's 70 degrees one day and 30 degrees the next, so a great scarf can mean the difference between being cute and freezing to death LOL! This light airy color combination is perfect for the changing weather and Spring.
If you've been around for a while you know I have foot and knee problems because of tendonitis. This means I don't wear heels *weeps uncontrollably* and only wear flats with arch supports *triple sigh*. Prior to that, I was a lover of all things gladiator sandals, and these beauties right here are per.fec.tion. I'm gonna be trying out the Good Feet arch supports so hopefully I can rock things like this soon (stay tuned for more on that), but oh the absolute casual style possibilities of this go-with-everything-at-least-in-my-head-they-do sandal. Bring on the pedicures and the relaxed fabulousity!  What I'm saying is, if these shoes came in brown, I'd basically sleep and shower in them. #nevertakethemoff.
Yeah so, lately I have a thing for onesies and it's Flickerbug and Danyelle's fault LOL!  Either way, I host and attend several girls night sleepovers a year, and this one piece pajama situation that is actually long enough for my tall frame is coming home with me. No wish list, I'm buying this sucka stat. Love it!
When you are as tall as I am (6'1″) you spend a lot of time wearing clothes that don't fit. This top appeals to my inner bohemian AND I can order in peace knowing that, when it arrives it will be long enough to fit my torso. I love the light carefree feel of this look and can totally see it going well with pieces I already have in my closet.
I need these…NEED! I've been meaning to up my print/bright colored pants situation of late, and this cropped jean would be a great foray into that happening. These pants just make me happy, and because they are from LTS, I know they will fall at my shins and not my knees! *happy dance*
I l.o.v.e. buying jackets from LTS because the arms are long enough and my wrists are never cold. Yes this is a thing. On top of that, do you see the shocking blue goodness that is this jacket?! Do you see it?! Then it has the nerve to not have a collar so I can style it with a tank or pop a bright colored collared shirt under there and light up my spring and summer with style. Yes please.
Are these bronze sneaker shoes in size 12 and 13?! Aw yeah! I'm a lover of athletic-inspired casual shoes and I absolutely love these cayoote lace up wonders.  Bronze works so well with my complexion too, but these come in other colors if this is not your flare. The red color though? *faint*
I'm 100% in support of clothes that make dressing easy and still look like you meant it. This top is jersey material, meaning no ironing necessary, and the cutout detail at the décolletage is a beautiful bronze color that would make me look like a goddess. I could see me wearing this piece for years to come. It's classic and a core piece you could layer or wear on its own.
There you have it, my wishlist for the new Long Tall Sally Spring/Summer collection.  Trust me, this is not the entire list, but I figured the post would be too long if I included every item in the Spring/Summer catalog HA! #noreally
Have you shopped at Long Tall Sally? How tall are you and what did you get? See anything you love in their new collection? Let me know in the comments below.
p.s. This is not a sponsored post, I just like dreaming about well made cute clothes that actually fit.