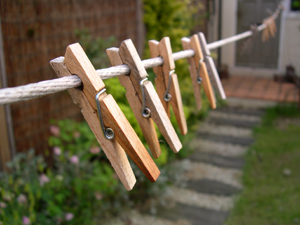 Something astonishing has occurred 

.
I, Roshini Glamazini,  did her laundry in two days. 

When I say "did her laundry" I mean I
separated loads
washed all loads
dried all loads
hung up items that belong in the closet
FOLDED ALL other items 
and put them ALL away
in TWO DAYS! 

Thing is, I could've totally done it all yesterday if I wasn't preggo and continually falling asleep.  I literally don't remember the last time such a thing happened 

.  Clean clothes stay on my guest bed like that's where they  belong 

.
But today I triumphed!  

#winning
That is all.
Until next time Glam Fam I wish you
Life, Liberty & The Pursuit of Nappyness,

@Glamazini
|
facebook.com/IamGlamazini
|
youtube.com/Glamazini
|
Google+
~~~~~~
Disclosure:  I do not hang my clothes on clothesline as alluded to by the photo used above. I just liked the picture, but I haven't used a clothesline and clothespins since I was in the Virgin Islands.  For more information about the Glamazini.com disclosure policy, click here.