This wig was sent to me by Eva Wigs to review. I wore it for 2 weeks straight. Here are my thoughts.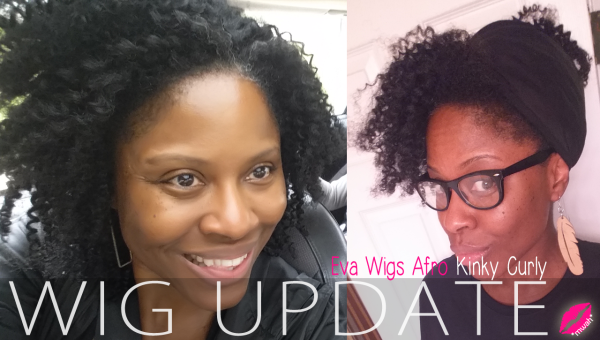 I'm back with an update on the Afro Kinky Curly Wig sent to me by Eva Wigs last year. Just like I did with the kinky straight wig, I wore this curly wig for a couple weeks to get a true idea of what my final thoughts are. after wearing it for a couple week straight. I did several posts about this wig
I did posts about this wig here and here so definitely check them out if you want more context.
The wig:
The details:
✹ Wig: http://www.evawigs.com/705-afro-kinky-curly-glueless-full-lace-indian-remy-human-hair-wig.html
✹ Name: Afro Kinky Curly Glueless Full Lace Indian Remy Human Hair Wig
✹ sku: C001
✹ Hair Color: #1-Jet Black
✹ Hair Type: 100% Indian Remy Hair
✹ Hair Length: 14"
✹ Hair Texture: Kinky straight
✹ Hair Density: 130%
✹ Baby Hair Options: No
✹ Bleached knots option: No
✹ Lace Color: Medium Brown
✹ SilkTop: 4"*5"
✹ Cap Construction: 3A – GlueLess Full Lace Cap Without Ear Tabs
✹ Cap Size: Large
The coupon code:
→→→→ ✹ $35 off coupon code: glamazini4u ←←←←
Previous posts about this wig:
My thoughts after rocking the wig for 2 weeks:
Watch the video:

Watch the video directly on YouTube.
As you can see, this wig is a perfect blend with my hair when I do a twistout using flat twists HOWEVER I have to issues. One was the cap size with is totally in my control and easily remedies by ordering a custom cap like I did with the kinky straight wig. The 2nd is that I have not found a good way to wash curly wigs from Eva Wigs and have them revert to their pre-wash state. Just like my Solange wig, once I washed this Afro Kinky Curly wig the curls elongated and I haven't been able to get it back to its original look. The wig is still gorgeous, just longer and less fluffy with less shape. Right now I can't recommend washing your CURLY human hair wigs from Eva Wigs until I figure that issue out. A viewer on YouTube asked for a picture of the wig post-wash on my head (there is one on a mannequine head in the video above), but I'm wearing crochet braids right now and can't make that happen. I will do my best and update this post when I do.