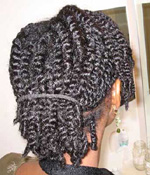 Three days later I've gotten some time to wash my hair. I decided to put it into large braids, eat something, then get to washing. Here I go…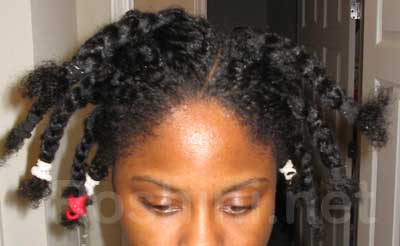 Done…now onto my Fandango Salad (from the Bread Company

)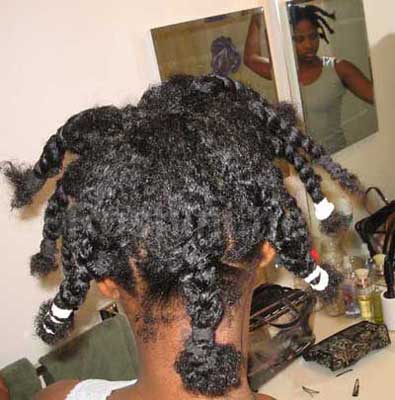 Oops…forgot the back…
…now really Fandango time!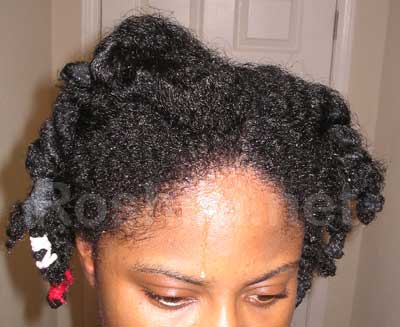 O.k. I'm back

I washed my hair using diluted Dr. Bronner's Tea Tree Oil Castile Soap while still in the large braids. I rinse very well then slather on Deluxe Rosemary Mint Daily Conditioner and let it sit for a couple minutes. I undid each braid, ran my denman brush through it (with ease) and placed it into a large twist. When I was done I rinsed my entire head throughly several times and here I am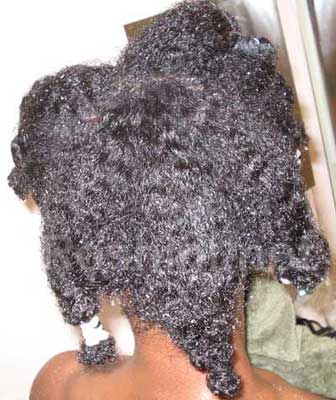 And the back. This is so amazing to me….I can't believe this is my hair

.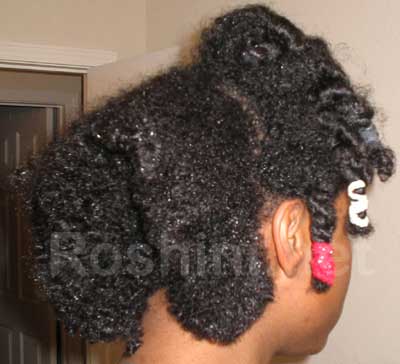 I let the back 'loose' and took one more picture before I started.
I asked God to 'quicken my hands' 'cause I didn't want to be up all night doing my hair. This is me at 9:26 p.m. (yes I timed God

).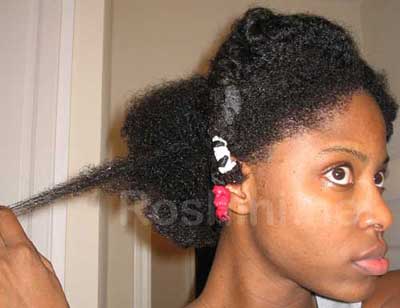 Thought I'd show you the shrinkage in the back…it's incredible huh?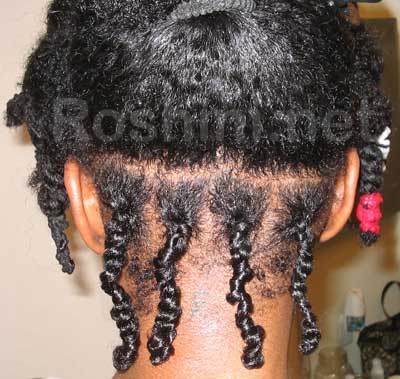 O.k. I started for real now. I'm gonna walk ya'll through right quick. My part is not straight *humbug*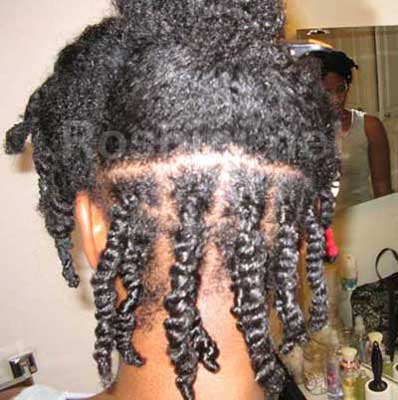 Next row, still crooked…*double humbug*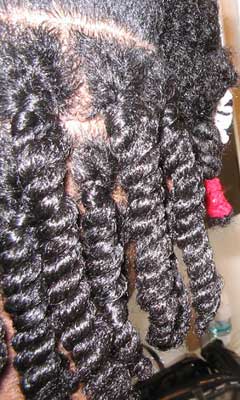 The twists are damp 'cause I'm right out the shower so they are shrinking up and nice and plump!!!!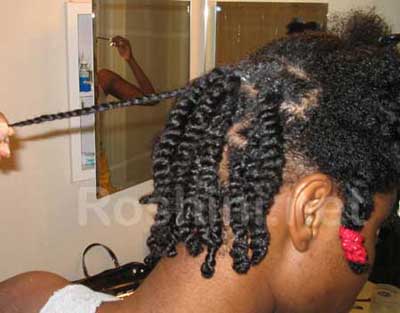 Thought I'd pull one so ya'll could see.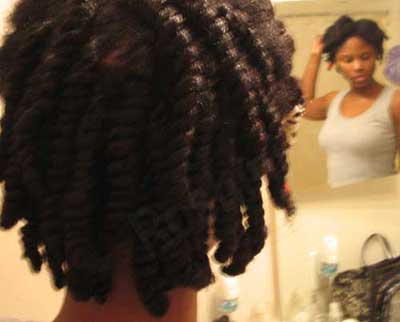 No flash. This is so wonderfully made.
It's 10:06 p.m. Not bad at all…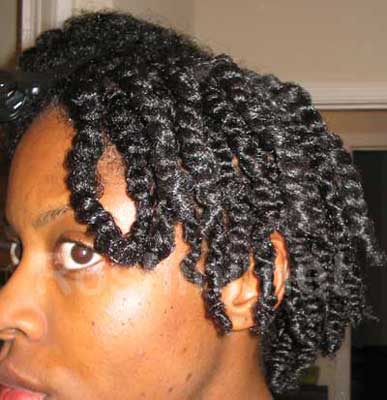 The first side is done…wow wow I'm just flying through here!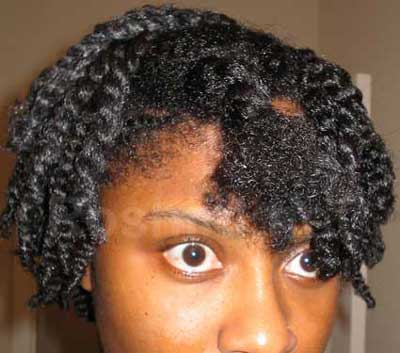 The next side done and…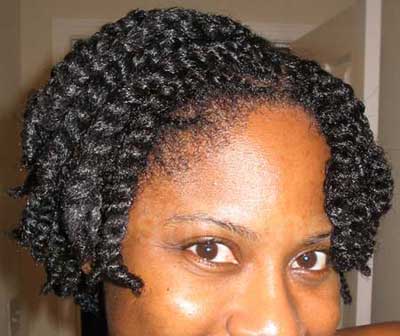 10:59 p.m. …. I'm done!!!!

There are some flattwists in the front, can you see them?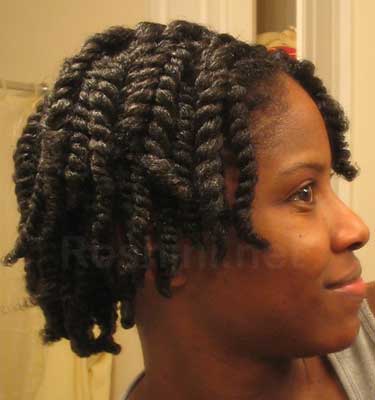 I'm getting the hang of taking pictures in the mirror…just wow.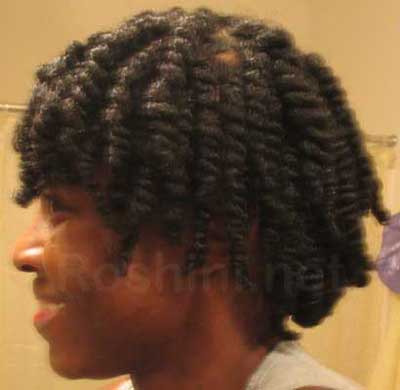 …hmmm.. I see scalp…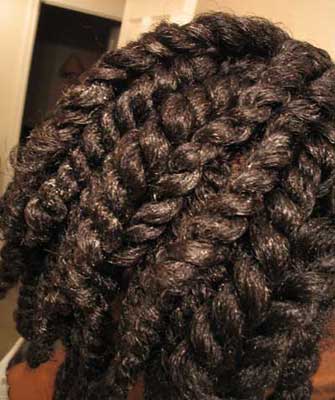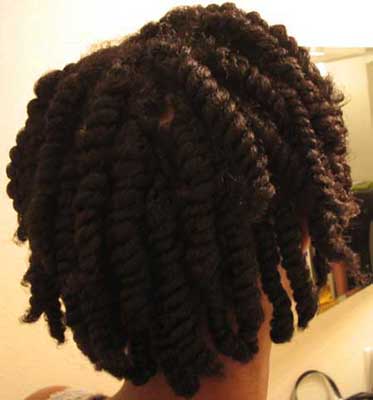 One more I promise

… no flash .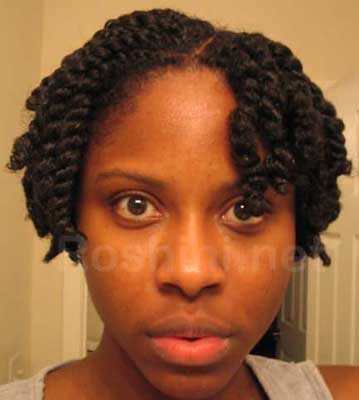 (Please excuse the ashy lips

)
I start my job on Monday so this is the style for day 1 through day 10 'cause I'm holding onto these for 2 weeks.
Thanks for stoping by and see you next week