If you've been online (or alive) lately, you may have already heard of TOMS Shoes.  If not then here goes … 
"In 2006, American traveler Blake Mycoskie befriended children in Argentina and found they had no shoes to protect their feet. Wanting to help, he created TOMS, a company that would match every pair of shoes purchased with a pair of new shoes given to a child in need. One for One. Blake returned to Argentina with a group of family, friends and staff later that year with 10,000 pairs of shoes made possible by TOMS customers."
– TOMS website 
The premise is simple: You buy a pair of shoes and a pair is donated to a child in need.
My aunt purchased a pair for every woman in our family!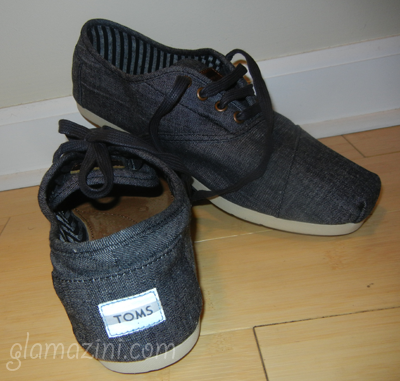 (image: glamazini)
She actually purchased me the Olive Canvas Women's Classics in size 12 priced at $44.  With my birkenstock arch supports they were a little snug so I decided to go to Nordstom and have them changed to a men's size 11  which is the equivalent of a women's 13 (stick with me, I'm going somewhere). Once at Nordstom I saw this little lace-up number and decided to get these instead!  KAPOW!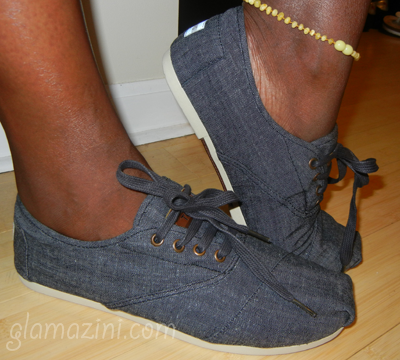 (image: glamazini)
They are the Charcoal Chambray Cordones in a men's size 11.  I was told that they will loosen up a bit by the salesperson but this size works perfectly with my arch support as pictured.  I saw so many people strutting around Los Angeles in these I felt like they were all the rave!  Beyond that they are so soft and comfortable to walk in.
Check out the TOMS website for more styles! What an awesome cause.
Until next time Glam Fam I wish you
Life, Liberty & The Pursuit of Nappyness,   

@Glamazini | facebook.com/IamGlamazini | youtube.com/Glamazini | Google+