I had to get new bobby pins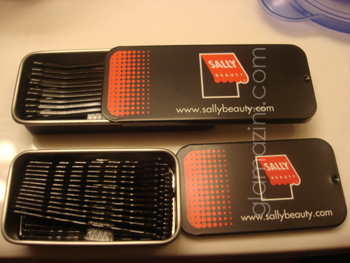 Why you ask?
Well the old batch I had was tearing my hair up!  Honestly I never realized that all bobby pins were not made alike

 , I mean how can you mess up a metal pin right? WRONG! 
The ones I had were flimsy, the black coating was flaking off and getting all over my hands and hair AND if that's not bad enough the protective coating at the end of the pin that is supposed to protect your hair and scalp consistently came off.  FAIL! 
So not only would my scalp get scratched up if I wasn't careful, but it would snag in my hair and break it.  SUPER DUPER FAIL! 

.   Now in the previous set's defens they were cheap and from the ethnic hair store so what did I really expect.  I tossed the entire old batch and bought these new ones in 2 sizes from Sally Beauty.
So far so good.

Price: ??
Purchased: Sally Beauty
Thanks for stopping by.

Life, Liberty, & The Pursuit of Nappyness