I broke the top of the old castile soap bottle I'd been using in the shower for years so I grabbed this from Walmart to replace it:
It's a condiment dispenser…as in ketchup, mustard etc…think I paid a $1 (I don't remember).  It reminds me a lot of my applicator bottle except bigger.
What I did was simple.  I added 50% water like so:
then added 50% Dr. Bronner's Castile Soap.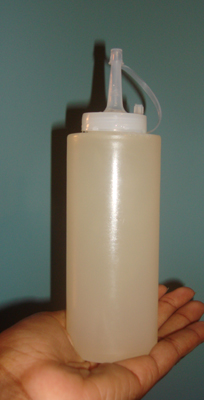 I used it the other day to wash my hair and it was GREAT for getting the soap on your scalp.  Perfect.
Price: $1 (I think)
Purchased: Walmart
Thanks for stopping by.

Life, Liberty, & The Pursuit of Nappyness