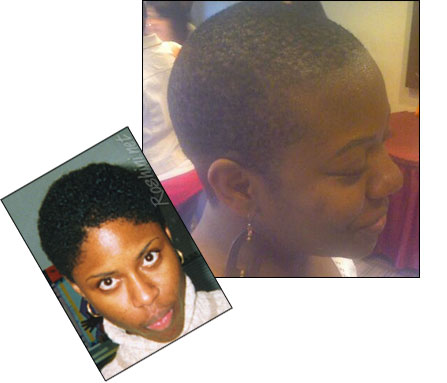 by Kenneth of  Natural Hair Community 
Do you remember the movie "The Bucket List"?
The movie's plot is centered on two terminally ill individuals who escape from a cancer treatment facility and pursue a bucket list of to-dos before they die.
It's not uncommon for people to have a list of life goals that they want to accomplish before they die or reach a certain age. These type of lists are often fun and reveal quite a bit about the creator.
Roshini shares her bucket list publicly. She wants to compete on dancing with the stars, do stand-up comedy and be on the cover of a national magazine. Pretty cool, huh?
So, what's on your bucket list?
I've noticed lately that many women have the desire to go natural, but there is often something that holds them back.
Many women get wrapped up in the infamous "good hair vs. bad hair" debate, while others are concerned about natural hair styling options.
Some women are concerned about what men think about natural hair, while other women maybe concerned about how they will look after big chopping.
The concerns can be numerous; but in your journey of life, liberty and the pursuit of nappyness, big chopping can have many benefits.
Have you ever heard of the term "big chop"?
If you want to skip the physical transitional period when you decide to go natural, big chopping is the quickest way to start your natural hair journey.
Big chopping means to "chop" off your relaxed hair.
Some women spend time searching the internet looking for big chop tutorials, while others decide sporadically that they're going to big chop and are done with the process ten minutes later.
Regardless of how you reach your decision to big chop, there are several benefits to women who decide to big chop to start their natural hair journey:
5 Benefits to the Big Chop
#1 – Instant Gratification: If you want your journey to natural hair to start immediately, then big chopping is for you. Instant gratification is something that many people desire. The process of transitioning from relaxed hair to natural hair takes times and many would rather have immediate results. So, the big chop could be for you if you enjoy instant gratification.
#2 – Become a Movie Star: Movie stars get a lot of attention and so will you once you big chop. Many women and men will approach you about your hair. If you want that attention, then big chopping is definitely for you. Your new look will be the talk of anyone you come in contact with. Most people will view your decision as a very courageous thing to do.
#3 – Avoid Multiple Textures: A huge benefit to the big chop is being able to deal with your natural hair texture, and not the texture of your relaxed hair. Dealing with the textures of natural hair and relaxed hair can be a challenge. Several women decide to big chop because dealing with multiple textures can be such a frustration.
#4 – Accessories: Do you like wearing accessories? What about shiny lip gloss, bold make-up, necklaces and earrings? Having long relaxed hair can sometimes cover up earrings, necklaces and other beautiful accessories. Once you big chop, these accessories will simply accentuate your natural beauty.
#5 – Weather: If you currently have relaxed hair, do you run for cover when it rains? Once you big chop, you might find yourself outside dancing in the rain. So, if dancing in the rain is on your bucket list, big chopping is for you.
These are only a few of the many benefits of big chopping.
Have you experienced any of these benefits or any other benefits after big chopping?