I washed my hair last week and have finally accepted the fact that I am having trouble rinsing the conditioner from my hair.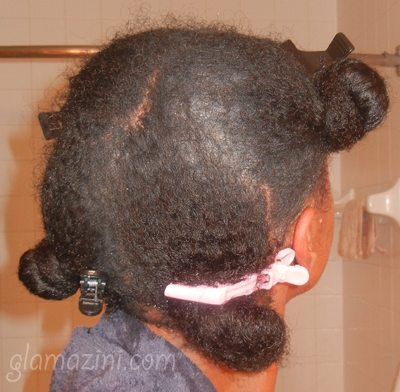 Exhibit A: Me, after my 1st rinse thinking I was done then seeing ALL THIS
in my scalp.  I had to rinse again *UGHITY* image: glamazini
Ughity.
This is not a new issue, per say, but it has gotten worse in the past 6 or so months and I must change my technique.  I have no idea what is causing this issue beyond the increased length of my hair (17.5 inches of dense coif).  My current routine is to detangle my hair in sections with conditioner, olive oil, and a Denman brush … wash it in sections with diluted castile soap or Everyday Shea Shampoo … then rinse it in sections EXTREMELY thoroughly sectioning each section with my fingers and intentionally making sure water gets through each portion of my hair and scalp.
Yet I still am having trouble rinsing the conditioner out. 

Since my routine has been the same for YEARS with success, I am at a loss.  I'm going to try eliminating my beloved pre-condition anywhere near my roots or increasing the amount of olive oil and lowering the amount of conditioner. 

Do you have any suggestions? Help!
Until next time Glam Fam I wish you
Life, Liberty & The Pursuit of Nappyness,   

@Glamazini | facebook.com/IamGlamazini | youtube.com/Glamazini | Google+