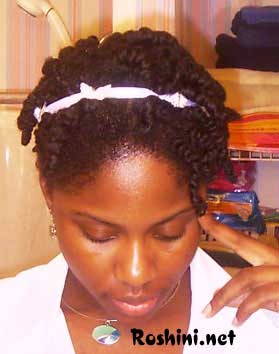 Day 2 of these twists and they're cool. I'm wearing one of my brastrap headbands from Topaz. I definitely would've liked the front of these twists to be a tad neater but I'm working with what I got for the next 2 weeks.
February 12, 2004
Couple things:
(1) I got a great suggestion in my guestbook to braid the base of my twists in the front to keep them from unraveling as much. I will try this next time around.
(2) I split a couple twists in the front of my hair today and it gave me an idea. Maybe I should redo sections of my twists ever other day or so and that way I can wear them for longer. It's a theory but I think I may try it and see if it's helpful or annoying. Stay tuned.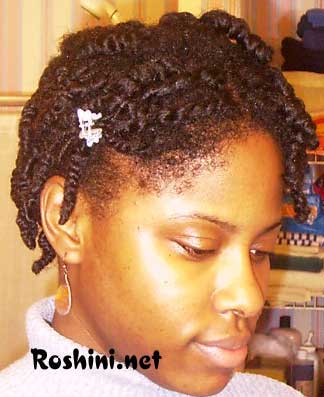 Xni (icks-nay) on re-doing the twists (#2 from the previous post). I've decided to just let them do their thing and re do the entire head when needed.
Here I am mildly accessorized with still unrinsed twists.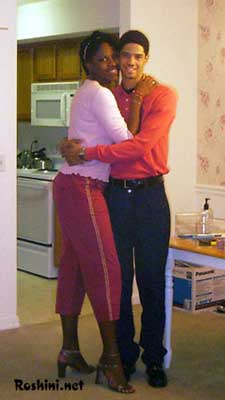 My boyfriend and I decided to go out dancing for Valentine's day. Since I wanted reggae/dancehall/calypso we went to Mt. Zion Calypso Cafe here in town on Friday since they play hip-hop on Saturdays.
You can't see my hair much but I'm wearing a pink bra strap headband that I bought from Topaz at the Orlando Get Together.
As you can see…we like to "coordinate"

. We had a great time but I can say I don't miss going out to clubs. Besides the fact that my feet and back hurt, eventually it got way to crowded, hot and smokey. I kept thinking "I'm happy I can rinse these twists". The joys of a natural head of hair.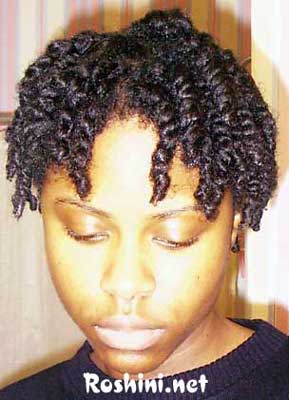 I don't like sleeping with wet hair so I waited until this morning to (finally) rinse my twists. I really got into my scalp and made sure each twists was thoroughly rinsed 'cause of the sweating and smoke from last night. Here I am after about an hour. I slathered in some moisturizer and that's it. These twists really swelled up. I like that 🙂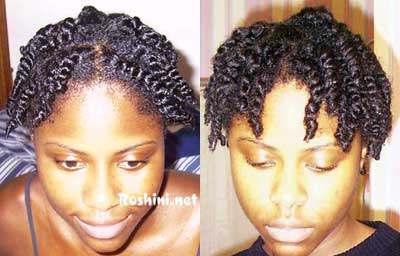 I know my hair is growing but look at the picture of my fat twists from last August

. They are slowly creeping over my head and down my face. Boy, these juicy twists are gonna be even more awesome in a year.