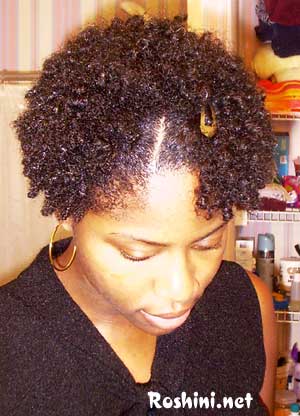 EUREKA! Well, I figured out what to do with my hair for church today after all. Now granted, I ended up having to sit under the dryer on low for like 20 minutes last night because my hair was not dry AND I woke up this morning looking like a bag lady 'cause my hair was squished down AND I had to rewet my hair and do a placenta oil treatment this morning while I showered for shine BUT, this is what I ended up with….and I look the bomb if I do say so myself!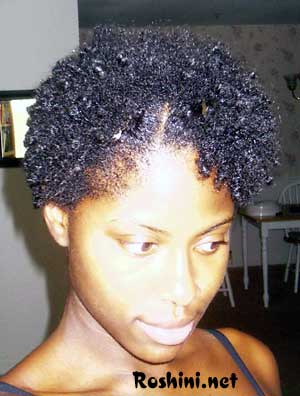 This is the same style about 7 hours later. I didn't have as much shrinkage as I'd imagined and it held up very well. The best part is that my hair was dry and felt soooooo soft.

Interesting: On our way to church my boyfriend and I were discussing 'good hair'. I told him that, in the past, if I'd seen someone with their hair like this I would have thought they had 'good hair' and it was obviously nothing like the hard mess that was growing out of my inferior head. I would have looked at the coils and the smoothed down part with the clips and known instantly that the only hope for me was a relaxer because I wasn't blessed with the elusive 'good hair' that this lady had. Nothing anyone told me would have ever made me realize that that lady's hair was JUST like mine, but she had more knowledge than I did. It's amazing to me how we are conditioned to one thing and don't expect anything else. That conversation solidified my already brewing understanding that my hair is good hair because it's what God put there and he don't make no junk. Just thought I'd share that….I sure hope it helps someone.
edited 1/10/2009 (concerning placenta treatment):
Fact Sheets – Hormones in Personal Care Products and the Risk of Breast Cancer in African-American Women