This post has been 3 weeks coming, but better late than never. As usual life is très busy with a couple funerals, lots of physical therapy for both myself and my son, a graduation and parties, the usual abundance of doctors visits and everything else the day throws our way. Oh to be a stay-at-home mom!  For the past 6+ weeks Mr. Flickerbug has been getting a series of casts to straighten his foot. I'm so excited that cast número four came off yesterday and he has a FREE FOOT! :). Last night I put that sucka into a tub and scrubbed  him from head to toe (the foot and the kid ha!).
Back to the post …
At the beginning of May I had the exciting opportunity to travel to Chicago and participate in the Midwest Verizon Wireless Style Voices kickoff. It was so much fun, and better yet I was given the new Samsung Galaxy Camera and six months of service to review, which I will do for for you guys soon.  If you want to see my intial thoughts on the camera visit this post.
Now onto the pixxies!
Here I am at the crack of dawn taking photos of myself in the bathroom mirror like any normal blogger would before they left for their train lol.  My shirt is from Old Navy and the capris were purchased at Ross.

I was so excited to be going AND to get an opportunity to take a train from St. Louis to Chicago since I'd never done that before.  I'm not gonna lie, the opportunity to be away from the stay-at-home mom life for a few days just prior to my birthday didn't hurt either.
Here I am showing off my favorite tote from Papaya Art and my new kicks from the Goodwill.

Here's a better shot of my Converse.  I grabbed these sucka for $20 barely worn out the case at my local Goodwill and I'm in love. Granted, they are a size too big BUT sometimes you must do what you must do to be great LOL!

After a bungle at the Amtrak self-parking lot that almost made me miss my train, I was on my way. The downtown St. Louis Amtrak station has changed immensely from when I was last there dropping someone off about 15 years ago … like there was a building and not a shed, and a paved parking lot. Who knew?
I absolutely loved the train experience!  I sprung for a business class ticket (also compliments of Verizon, thank you very much), so I could really stretch my 6 foot 1 inch tall body out and get comfortable, and that I did. I will definitely be on the train again soon. In business class we were provided with free newspapers, 2 free drinks from the dining car, lots of privacy, huge bathrooms, ample space for our carryon luggage and electrical outlets next to our seat so I could charge my electronics. Why in the world have I been flying everywhere?   The *only* issue I had with my train experience was the lack of wifi, but that was me pushing it I suppose. Otherwise I'm in love!
Check the view from my window as the sun rose and I relaxed and made my way to Chitown.

Once I arrived I was sad to realize that Chicago decided it was still winter and I was freezing. That withstanding, my girl Tasha of HousefulofNicholes.com picked me up and we were on our way to meet Briana of TheManeSource.com at Flat Top Grill for lunch.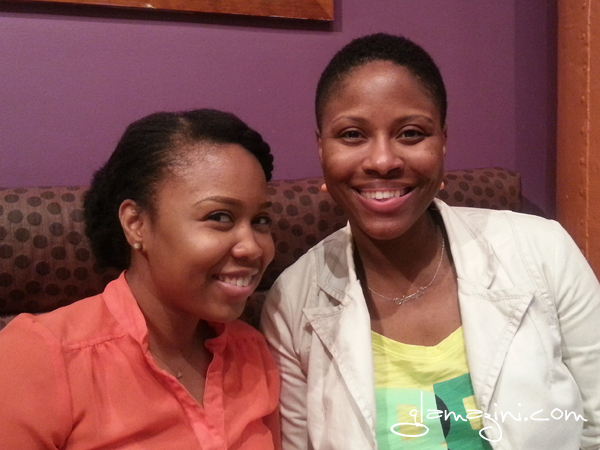 I did not get a photo of Tasha, but if you check out this vlog video you can see her as well as the trip up to this point live and in action.
Click here to watch the video on YouTube.
After a long day, I retired to my room at the Hard Rock Hotel in downtown Chicago (see video), and slept like a rock.
:::
The next day's weather was equally unforgiving brrrr.

I packed for warmer weather and Chicago was serving me late winter. No good. I put on both slips I'd brought with me (yes slips, I still wear them under some dresses #oldschool), and my jeans UNDER my dress to be able to walk to our meeting location LOL. It was that serious in these "I don't like being cold and rained on" streets.
Once at the location we met with the representatives from Verizon, as well as introduced ourselves to the other bloggers. Then we were given our new toy, the Samsung Galaxy Camera.

This baby was purdy indeed, and from a video producer's vantage point I audibly squealed when they handed it to me. I am currently in the market for a higher quality camera, and with it's 16 megapixel video, this loveliness would totally do the trick in the meantime.

The back resembles a telephone screen, and so far EVERYONE I meet thinks that's what it is until they notice the front … then the questions begin.  I'm learning that this camera is an attention draw.

Below is the 1st photo I took with the camera the moment I recieved it: my newly designed (by moi) and printed business cards in my favorite fluer de lis card holder. Nice huh?

After meeting with the reps from Samsung, and asking lots of questions, we were treated to a yummy lunch then given a few free hours to regroup an get ready for that night's outing.  Here's a shot of what I was wearing for "business casual".  The dress was a vintage hand-me-down from a friend's grandmother, I don't remember where the belt came from, and the earrings are from Soft Surroundings.

I did neutral eye makeup with a bit of pink, and you can see that I had the barber keep a bit of length on the top of my hair when she cut it prior to the trip.

I'm still stuck in flats due to knee pain #waa, so I opted for these nude flats from Payless to round out the outfit.

Fast forward to about an hour later and BAM! I had added a little raz and a whole lot of matazz for our outing to the School of the Art Institute of Chicago (SAIC) fashion show and then dinner.  I "rosied" up the eyeshadow by adding a dark pink to the crease and above, added a winged black liner to my top lid and threw on a matte red lipstick by Rimmel London. The earrings were inherited from my mother-in-law, the jacket is Kardashian Kollection from Sears.

The rest of the outfit was red from head to toe. Everyone kept saying they loved my jumper, but this was actually a tee shirt and slacks that happened to match perfectly. #winning  The tee is from Express, belt from Aldo, slack and ring are Kardashian Kollection from Sears and my black flats are Me Too picked up at my favorite Nordstrom Rack.

LOL at the breast pump attachment in the bottom corner of the photo above. Flickerbug won't let me be great!
Moving right along …
I hurried downstairs to meet my group, and we walked over to the tent where the SAIC fashion show would be held.  Again, that was one cold walk brrrrrrrr.

Once inside the tent I could warm up and regroup. The entry way was packed with people, projection screens, places to take photos, places to try on make up and my favorite: a vending machine that gave you free lipstick, nail polish or eyeshadow!

Oh how I wish I could wear heels *tear* … I'm rocking heels with this outfit in my head ya'll. Continue to pray.


My goodies from the BEST VENDING MACHINE EVER!!!

My group was seated on the front row right at the beginning of the runway. #sweet.  I snapped the photo of my Fendi clutch, also a hand-me-down from the same friend's grandmother.

The show was filled with creations big and small, creative, beautiful, weird, strange, every adjective you can imagine it was walking down that runway LOL!



This blue dress was my favorite "ready to wear" item of the night. I would totally rock that all day every day.

Once the show was over, I had a photo taken on the front row and then it was off to dinner at Mercat a la Planxa, a tapas restaurant in the heart of Chicago that served us the most amazingly delicious food in a private room.


After the meandering social hour that was dinner, back to the hotel we went. Several of the bloggers hit the town but I opted to take the rare opportunity to go to my quiet hotel room and chill out #momlife.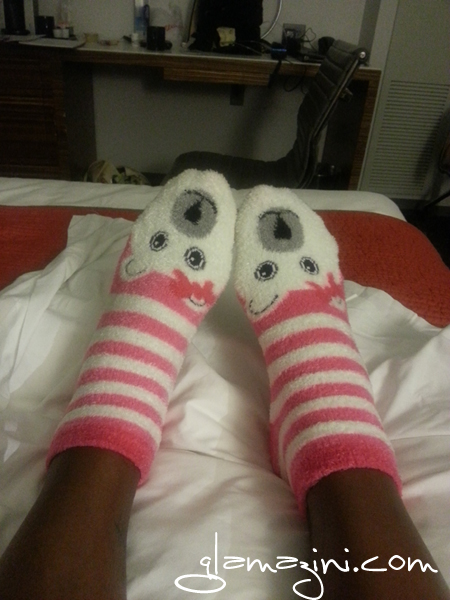 The next day I was up bright and early, took a cab to Union Station and was back in business class on Amtrak on my way home to St. Louis.

All in all the train ride was great (so much so I signed up for the Amtrak rewards program #boom), the trip to Chicago was great, the time spent with Tasha and her little'uns was great, the Verizon opportunity was great, the other bloggers were great, the fashion show was great, dinner was epic, and a couple nights in a nice hotel solo were beyond stupendous.  I love every second and hope to get more opportunties like this in the future (as well as visit Chicago again, maybe this time with the family or if a magic fairy sends me money for BlogHer next month).
Until next time …
Edited to add: Here's my 2nd vlog video showing the rest of the trip: