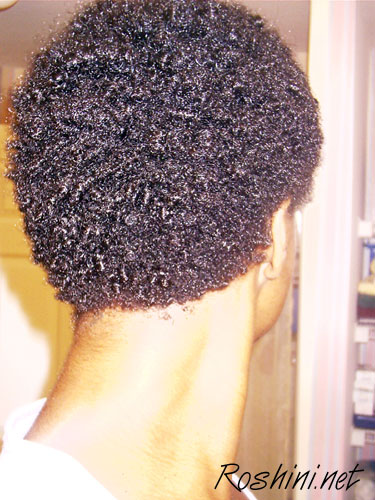 I had a good wash-n-go day today so I thought I'd document it. Sorry about the height of the picture but I liked how long my neck looked. Now granted, I was holding the camera so I'm twisted up all funny but still…I got the Nefartiti neck thing going on I think.
At anyrate, I don't wear my hair like this too often lately just because of laziness. To get it like this I conditioner wash it and then dry it with as little manipulation as possible so as not to disturb the coilies. This is where the patience comes it. My hair is like a sponge so letting it air dry sans towel is a drippy endeavor. Water be pouring out like Niagara Falls for 30 minutes or so!

I may just set up my hooded dryer and use that instead to get some of the water out. I'll let you know how that turns out*.
The back of early January Wash-n-Gobr />The back of late January Wash-n-Go
* I did the hooded dryer thing. Click through, it's a couple pictures forward.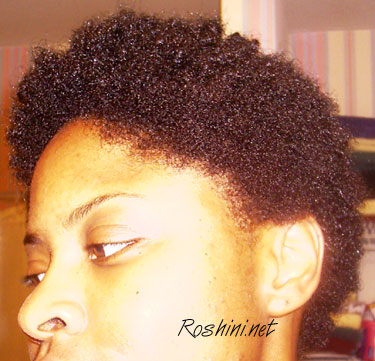 Here we have the side. I always like to take a picture of the 4b part of my hair for record and comparison. It's filling in way more than it ever has any other time I've been natural. I contribute that to my knowledge gleened from nappturality.com.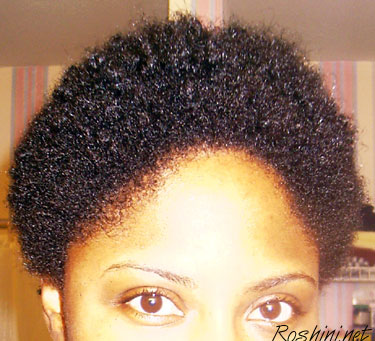 And lastly, the front of the do. If you've been here before you'll know that the front is not as tightly coiled so it always appears longer but it's the same length as the sides when stretched out. The back of my hair is the longest.
I've been going throught a fuzzy stage lately. At least I hope it's a stage 'cause it's not my fave. I don't know if it' s because of the Florida humidity or water or the length of my hair …. but I'll keep you posted on what I discover (as always)
Front of late January Wash-n-Go
Front of late January Wash-n-Go
~edited Sept 22, 2003~
I'm beginning to think the frizziness has to do with growth cycles. When my hair was much shorter it would go from frizzy to not frizzy and back to frizzy about every 3 weeks or so. I'm speculating that it may have to do with how the ends of each hair are directed as it grows. If the majority of them are curving back down it's less frizzy and if they are growing and curving back up and around they are more frizzy. What do you think?