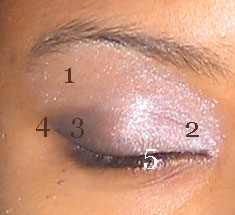 Welcome to my Eye Make-Up Tutorial
(as requested by many)
I powdered the entire lid with M.A.C. Studio Fix face powder
1. I filled in the entire section under the brow and above the crease with the silver glittery shadow in Prestige Cosmetics beauty bar eyeshadow palette (FCE-03 Artsy Tartsy)
2. Next I filled in from the inside of my eyelid over both above and below the crease with Milani Silver Bullet.
3. I filled the outer corner below the crease with L'Oreal Wear Infinité Raven.
4. Made a short line from the outer lid about an 4th of an inch beyond my eyelid with Maybelline Eye Express Liner Pen in black. The point of this is to extend the eye's look and lash's look.
5. I applied a heavy dose of M.A.C. black mascara just to the outer lashes on the top lid.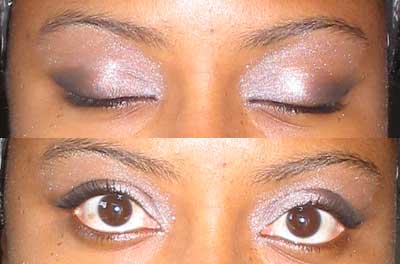 This is what it looked like in action. I usually follow a similar pattern when applying multiple colors of shadow. Today I was wearing all black with silver accessories.
So:
1. Rich, neutral or light color below the brow
2. Light color on the inside of the eye
3. Dark or neutral on the outside of the eye
4. Liner from pupil to 4th of an inch past eye (play with this see what looks good on you)
5. Mascara mostly on outer lashes (if you have bottom lashes go ahead and do the outer one's there too!)