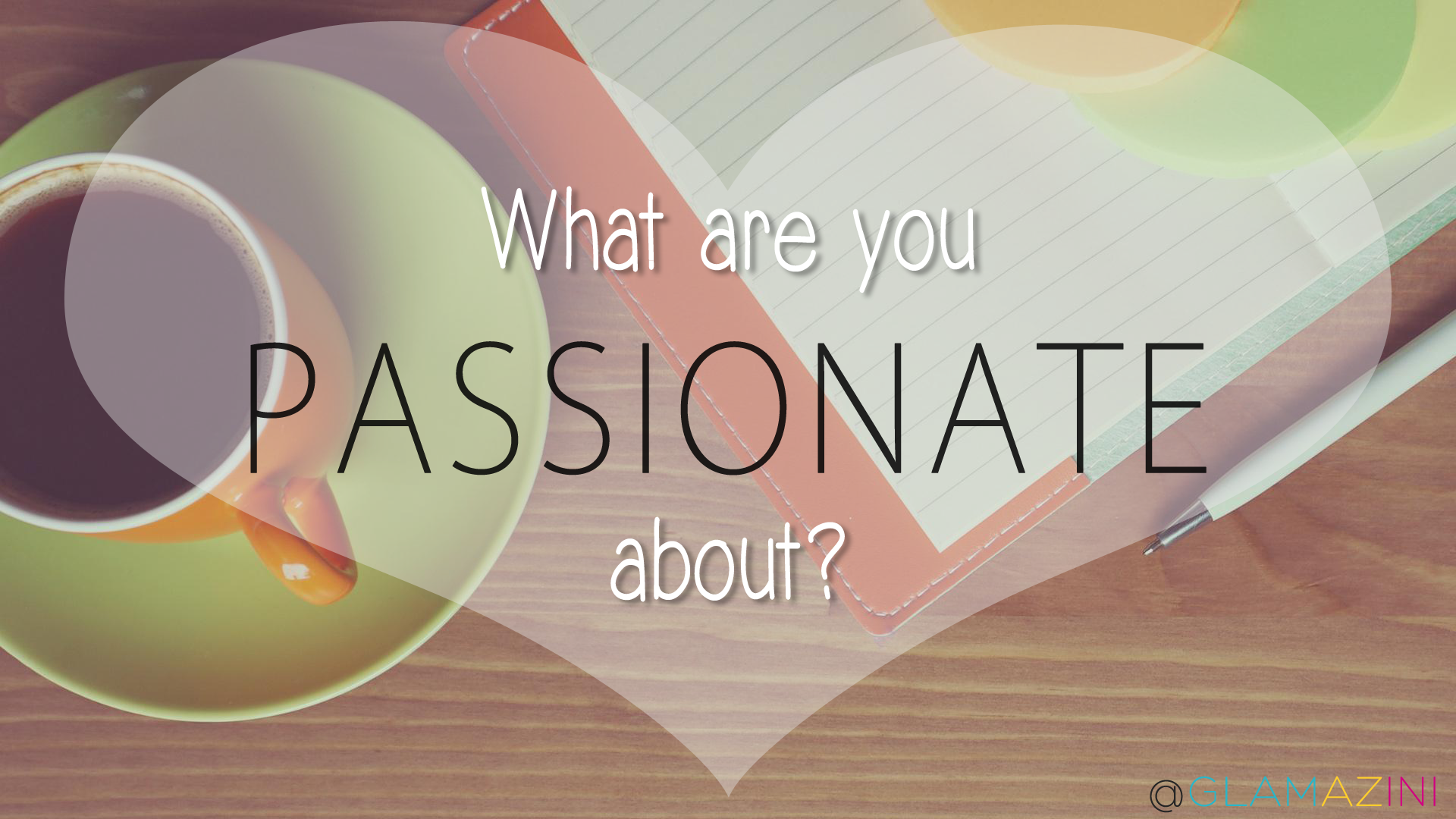 I asked this question online and received answers like


"Life on a whole!"

"My family"

"God's love"

"My writing ministry. Raising strong black men who walk in their purpose. Chocolate."

"HAIR!"

"Hair! Motherhood. My God. (not in that order)"

"Crafts"

"Leaving a legacy behind for my son"

"Technology, social justice, shoes, writing"

"great food. Oh, and that {my wife}"

"Finding out my true purpose in life and living it to the fullest…"

"i don't een know sadly…"
I can relate to the last two responses of "finding out my true purpose" and "I don't even know". I'm in an awesome place in my life where I can evaluate what my purpose is … and I am afraid. #truth. At Oprah's Lifeclass T.D. Jakes really spoke to me when he said that your passion and your purpose are linked. Since then, I've decided that following my passions will ultimately lead me to my purpose, a seemingly obvious path to some, but extremely scary to me. I've been afraid to declare something as a passion and head down that path because I'm afraid it's not the right thing and don't even trust my ability to make such a weighty choice.
Thing is, I also realize it's not a singular choice.
I can have more than one passion and more than one path, but knowing that about myself has not helped me choose, I just know it … then stall out. #womp #truth
This is not a "how to find your passion post" at all … more like a "watch me as I try to find my passion post" if anything. Y'all know how I like to put my bidness in the streets hoping it will help someone else (be gentle).
In what may now seem like a total contradiction, I thought about what my passions are and here's what I came up with:
When I was a child:
dolls
arts & crafts
friends
photography
and nowadays:
relationships
self-image
humor
travel
blogging
video blogging
smoothies
Yes smoothies, don't judge I'm obsessed!
I also took the VIA Character Strengths Assessment to identify my signature strengths.
My top 5 strengths that I could find ways to use more often are:
Gratitude
Appreciation of beauty and excellence
Capacity to love and be loved
Humor and playfulness
Creativity, ingenuity, and originality
Hmmm … great, now I'm even more confused.
I do remember Oprah mentioning during Lifeclass that a good place to start if you're stuck on your purpose is in serving others. She believes that, in serving others, your passion/purpose is quickly identified. I'll have to think that approach through (especially being in my 3rd trimester of pregnancy), and for now I'll put these questions in your court:
What are you passionate about? How do you integrate those passions into your day-to-day life?