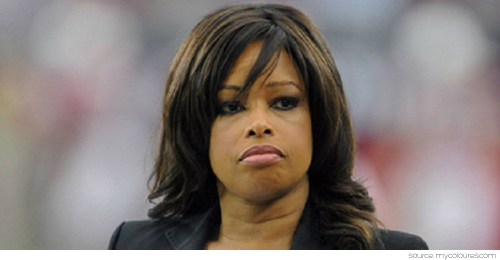 I'm not even gonna lie, I did not know who Pam Oliver was until a few weeks ago when the internet started going in on her about her hair.   I quickly learned that she is a sportscaster that works the sidelines during NFL games … that I don't watch … hence me not knowing who she is.
This is gonna be a quick post that spans beyond Pam Oliver.
It seems that every month the interwebs finds a new person to run into the ground with their unsolicited critiques. I get that she is a "celebrity", I get that she's in the public eye, I get that she works on a visual medium, and I get that looks matter (to some more then others if we keepin' it all the way real).
My thing is this, why are so many people followers when it comes to who to criticize online?
One day everyone is fine, then next day someone picks who everyone will go on about and what, & the sheepish crowd follows. I think the whole thing is beyond silly. It's like the Gabby Douglas online hair lynching a couple years ago. Silly & unkind.
Pam Oliver is a successful woman of color who has probably busted her tucus to get to where she is and all people can talk about is whether her weave is done right.
Really?
I chuckle over and over when I see person after person (who honestly would not win any awards for their fashion-sense, personal presentation, or "additional hair" skills) making fun of this woman in my timelines. Same people went in on Gabby, went in on this blogger chick about her lipstick, and will go in on me if I'm the flavor of the cyberbullying month. SMH.
What Did Pam Oliver Do To Ya'll Sheeh?  Worry about yourself for goodness sakes! 
Chime in below … what are our thoughts on this whole thing?
Oh and Pam ain't e'm here for all the haters, she thinks it's "comical".