Did you all catch yesterday's Tyra show called "What Is Good Hair?".  OMG it made me so sad!!!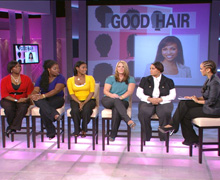 (image source)
If you look @ my Twitter feed today on the left you can see my "in the moment reactions" to the pure foolery being displayed on the stage!  

There was:
A girl with a helmet-like weave who desired to go natural but was afraid of how others would perceive her. She was later "transformed" by Tyra's glam squad to a puff (with relaxed ends) wearer who looked scared as all get out! Poor thing still doesn't have a support system or information on how to maintain her hair. I doubt the relaxed (w/ the  white girl flow), weaved, and loced chicks on the panel arguing back and forth helped her make up her mind any.    I pray the chick with the locs on the panel passed on Nappturality.com website (or Glamazini.com) to her after the show.  Help Jesus!
A black woman who purposefully dated and got pregnant outside of her race so her child could have good hair.
A black mother whose daughter's hair is so long and straight that kids tease her as she begs for her mom to cut her hair so she can fit in.
A white mother of an interracial 8 year old daughter not only relaxes her daughter's hair….but get this…she adds WEAVE because it's more manageable.
A woman who is relaxing her 3 year old daughter's hair…mentioning that "if it wasn't good for kids they wouldn't make relaxers for children"  
A woman who hesitates to introduce her daughter who is now rocking a FIERCE coily fro.
I just don't know what to say ya'll.

I just couldn't barely watch the mess unfold on the screen and Tyra's facial expressions of pure disgust and sadness were priceless.  The saddest part of the show was the little black girl wanting to wear her Hanna Montana wig (blonde straight) all the time and the interracial black/latina girl who said nappy hair is "lower class".

I just can't ya'll…where do we begin, am I even making a dent!?  Help Jesus!!

Ironically I think I agree most with Tyra

  (who didn't really say what she thought but you definitely got the message that she did not agree with most of the mind shackles represented on the stage).  Thing is, healthy hair is good hair to me.  In the end it's your choice what's on your own head BUT that said, I still believe in education, knowledge and self love.  The issue of our hair runs deep…deeper than we can imagine or even know, from slavery and years of scratching at a better life by learning to mimic European attributes in an effort to

 fit in.  How can we really heal such a legacy of shame and hurt and self hatred and miseducation and well, just plain foolery!!!??!!!

I feel a tad overwhelmed by it all honestly. *sigh*