10:56PM Thu. Dec 30th ~ Updated below
::::::::::::::::::::::::::::::
1:10AM Thu. Dec 30th ~ Updated below
::::::::::::::::::::::::::::::
At the time of writing this post (6:31PM Wed. Dec. 29th) I am highly annoyed.

 So like any good blogger I'm gonna vent … here … on my blog … 'cause … well … it makes me feel better!

Rewind to Friday Nov. 27th
a.k.a.

black friday.  I was minding my own business while I watched my husband struggle trying to make a purchase on Express.com.  He is a frequent customer of theirs, loves their graphic tees and had a coupon ready and waiting to spend spend spend on their black friday sale!

Their website was down

… on black. friday.

… the biggest shopping day of the year.
Anyhoo…he ran out to a store, got the run around there about the deal only being on the web and, at the last minute (10:30PM CST), called me and asked me to see if the site was up.  It was! Don't worry, he didn't spend his ENTIRE day dealing with Express but he did spend a significant amount of time that he should not have had to have spent.
Back to the story…the website was UP!  I tried to purchase his items but no avail

.  He never did get the items he tried all day to purchase online and in person.  I had not planned on making a purchase myself but saw a sweet deal on jeans so literally at the last minute (10:58PMish CST) I purchased some skinny leg jeans for 40% off!!  SCORE BABY! 

.
That was November 27th … today is December 29th … I don't have my jeans

 .
I chalked the lack of package arrival up to the season.  I work with computer systems so I totally get that stuff breaks. The jeans weren't a gift or anything so I gave Express LOTS of grace and leisurely got around to check on why my jeans hadn't arrived A MONTH AND TWO DAYS later.  I jumped on their website and pulled up my account with no issue, went to view my order and saw the following (click the photo to enlarge):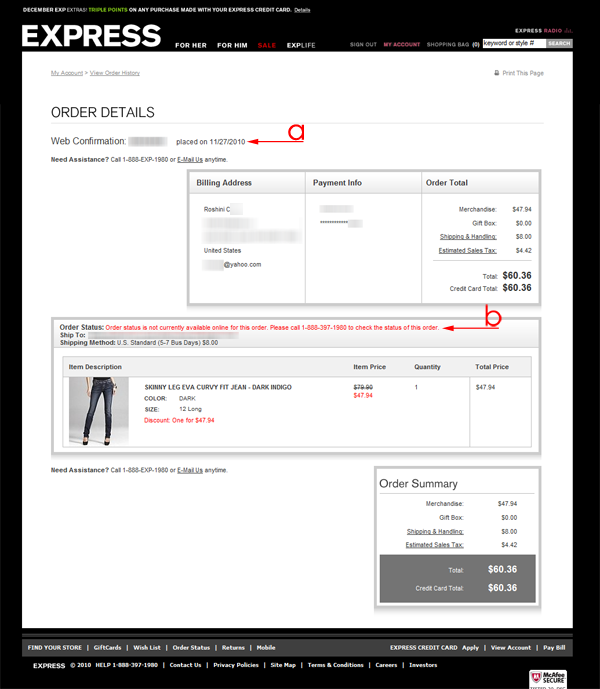 Notice exhibit a says I ordered on 11/27 and exhibit b says "Order status is not currently available online for this order. Please call 1-888-397-1980 to check the status of this order."
So I call and here goes the foolishness right here:
| | |
| --- | --- |
| Express:  | Thanks for calling Express how can I help you? |
| Ini:  | I'm calling to inquire about an order I placed on November 27th and haven't received. I'm on your website and it says I should call. |
| Express:  | Do you have your order number? |
| Ini:  | Yes, it's 54321. |
| Express:  | [short pause while checking system] Oh, that's sold out. |
| Ini:  | Come again? |
| Express:  | That is sold out. Sorry. |
| Ini:  | But I ordered it and have an order right here and confirmation email. |
| Express:  | Yeah, that's sold out though. Sorry about that. |
| Ini:  | [struck dumb by the absolutely absurdity of what she is being told] uh … uh … well … was I going to get a notification or something? |
| Express:  | Our email systems are backed up. |
| Ini:  | Wow. |
| Express:  | Your card won't be charged. |
| Ini:  | |
| Express:  | Sorry about that. |
| Ini:  | uh….wow…I've never had anything like this happen before…wow. |
| Express:  | Sorry. |
| Ini:  | Ok thanks. |
AND SCENE!

what just happened?!
Ok, is it just me or is that ri-fricken-diculous!
So like a good little annoyed tweeter I tweeted this: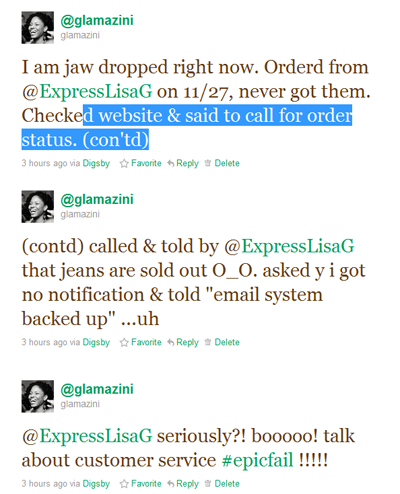 and they wrote back back 2 hours later: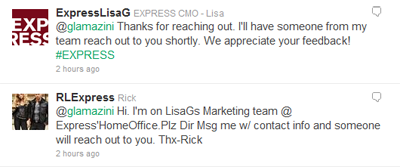 (impressive but I'm still annoyed!

GACK!)   I generally am relatively patient with companies (unlike my husband, he is a tough customer if I've ever seen one) but the things  that annoy me the most about this situation are:
1.  I was looking forward to those jeans so I could have something else to wear with these flat boots I'm stuck in since I hurt myself.
2.  I got NO NOTICE that I was not going to receive my order…what in the world?!
3.  Why was I sold something then had to call to find out "oops, that's sold out" huh?!
4.  I could have used that money on a different sale or deal or whatever to get my jeans. I just placed an order with Long Tall Sally a couple days ago and could've bought jeans there.
GACK!

Anyhoo it is what it is so I'll let you guys know what becomes of this if anything. I checked and my card was not charge so all I can do is tweet, blog, respond, get over it and look for my jeans elsewhere.
Seriously though…BOOOOOOOOOOO!!! 

Alright, cyber-whining done.


::::::::::::::::::::::::::::::
Edited to add:
It's now 1:10AM the next day and I wanted to add that Rick from Express (their second tweet above) actually called me and left a message along with his office and cell phone number.

  Impressive indeed, although it's way too late to return his call so I'll have to do so tomorrow. He also said my information was forwarded to the customer service department.  Stay tuned.

::::::::::::::::::::::::::::::
Edited to add:
It's now 10:56PM the next day and I wanted to add that I spoke with Rick from Express earlier today.  He was VERY apologetic and explained the entire thing making sure to say it wasn't acceptable but he wanted me to know what happened.  He said the customer service rep should have offered me a replacement or comparable discount and they failed by not doing so. He then offered to send me a $50 gift certificate to Express because he did not want my 1st online shopping experience with them to leave a bad taste in my mouth.  IMPRESSIVE!

   I'll do a whole new post when the gift card arrives updating you guys.  Rick was great to talk to honestly and I instantly felt like he & the marketing team at Express were handling a really crappy backend systems meltdown well…at least in the realm of social media (remember, my husband has had his own unaddressed headaches with them for several weeks but is not on twitter so has had no recourse). Rick left off by telling me if I e
ver have any other issues I have his office and cell phone number and should feel free to call him…which I won't … I hope … but I feel good that he said I cpuld marketing ploy or not.

  Stay tuned.
Impressive indeed