Who can forget the FABULOUS Soul Sister Mirror Compact I raved about in this post then in this one.

faint.
Well Glam Fam, the artist herself, the AMAZING artist & entrepreneur Chandra Micheals of Sugarluxe has blessed me beyond words by sending me my beloved compact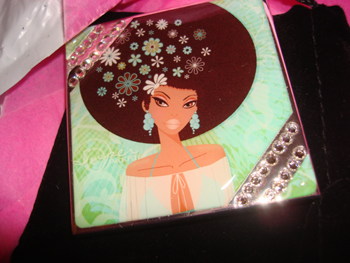 I am almost beyond words with this one ya'll

… I got this care package in the mail last weekend, meticulously packed in a padded envelop, then a branded box, wrapped in fuchsia tissue and a black felt bag with a artists bio/thank you card nestled inside.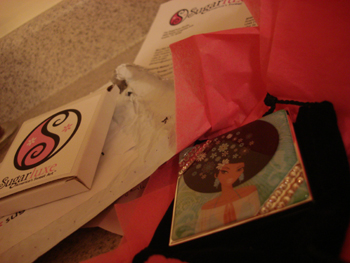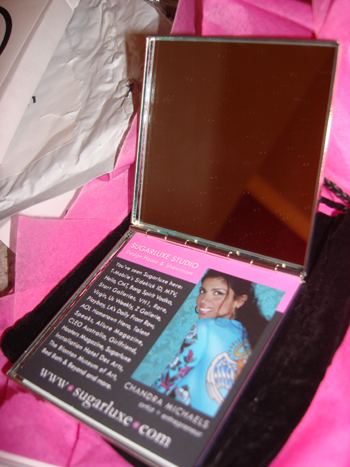 Here's my beeyoootiiiifulllll compact *sniff* wook @ her…so wery wery wovely

… if you carry this around you'll feel beautiful BEFORE you even look in the mirror!!!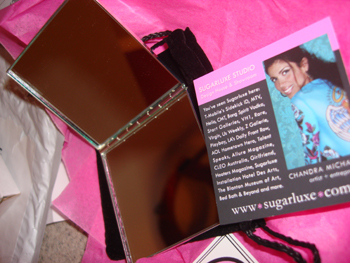 And to top it off I also got a handwritten note from Chandra herself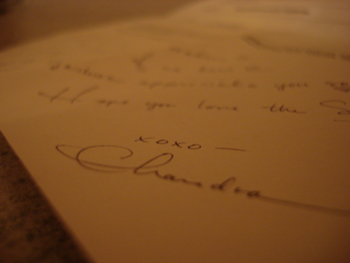 You know ya'll (cue violins) … I love doing this (blogging, posting, taking pictures), wish it was my full time gig honestly, and love love love helping people embrace their NATURAL GOD GIVEN beauty…but I have to say that this really blessed my little heart 'cause I didn't post to receive anything. I posted because I love Chandra's work in general and how this particular piece chose to include my brand of beauty in the line up of what's considered fabulous (which is not always the case).
Thank you Chandra!! Just wow

Thanks for visiting!!!

Life, Liberty, & The Pursuit of Nappyness

~ ini