This winter's warm weather made my Winter Look Book a bit atypical but I rolled with it.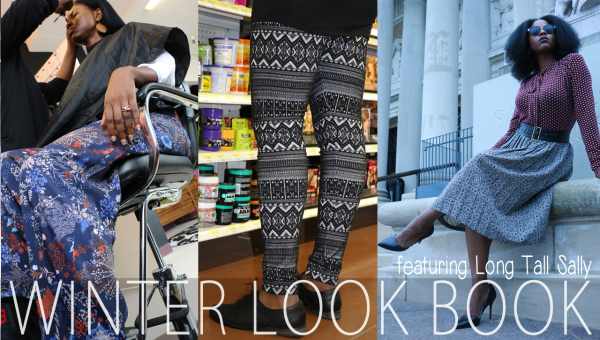 I like how it turned out. Thanks to Long Tall Sally for the pieces featured. ❤ Let's do this.
First up these



This classic palazzo pant is right up my alley. The Virgin Islander in me is in love with the floral print and bright colors and the retro lover turning 40 in me is drawn to the wide legs and 70s inspired vibe. I plan on killing these once the weather warms up and if I travel. I may even wear them to church tomorrow with a black top.
Hair ‣‣ Eva Wigs Kinky Straight Wig
(coupon code "glamazini4u" for $35 off order)
Sunglasses ‣‣ AJ Morgan
Scarf/Jewelry ‣‣ Moi
Makeup ‣‣ Nettie Kelly Makeup Studio
Shirt ‣‣ Old Navy Boyfriend Shirt
Pants ‣‣ Long Tall Sally Retro Palazzo Pants
Shoes ‣‣ Payless
Coat ‣‣ Victoria's Secret
Next up are Long Tall Sally's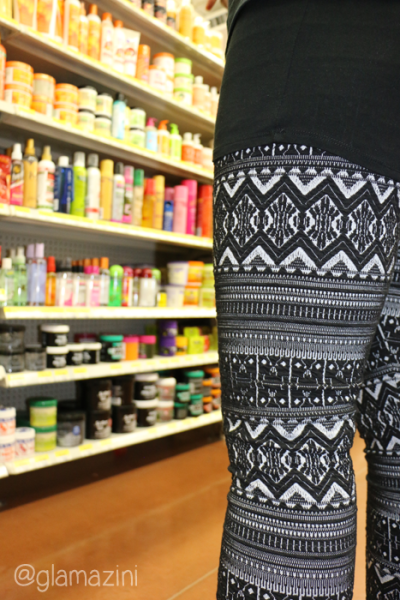 Ok real talk, if you're a tall girl you kinda have to own these. Matter-o-fact I love the fit so much that I may need more tights from LTS if this is the game they're playing lol. First off the tights are textured (jaquard) and a really nice weight and very opaque for those who like to keep it holy while keeping trendy.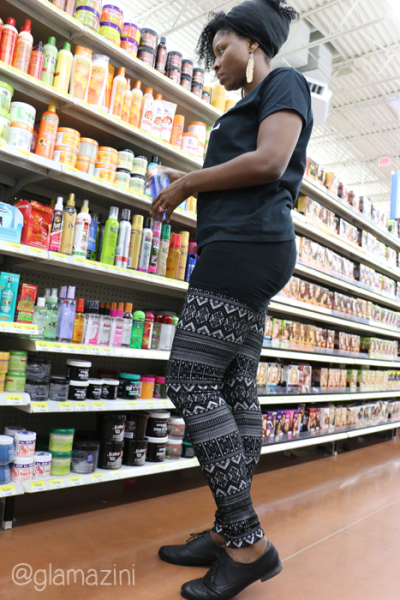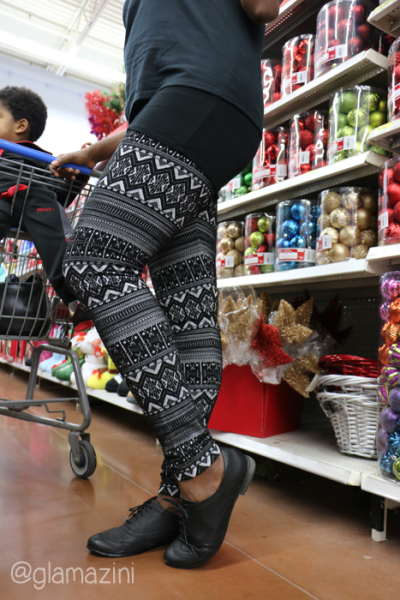 I added skirt that but have since been rocking it with longer shirts and tunics. The pattern is universally cute on everyone. I can't stop putting these on!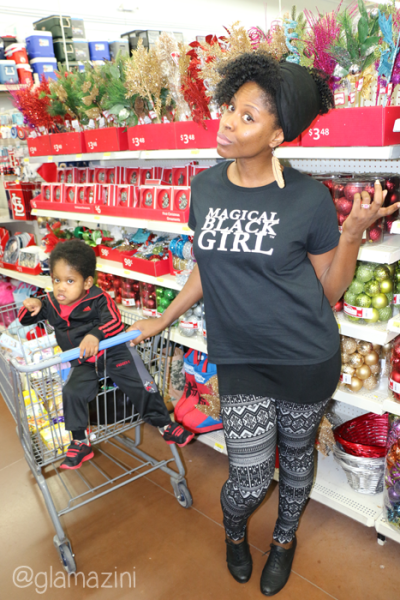 Hair ‣‣ Eva Wigs Afro Kinky Curly Wig
(coupon code "glamazini4u" for $35 off order)
Tube Wrap ‣‣ Toni Daley Tube Wrap
Earrings ‣‣ Toni Daley Light As A Feather Earrings
Shirt ‣‣ Magical Black Girl Tee
Skirt ‣‣ Target
Leggings ‣‣ Long Tall Sally Aztec Leggings
Shoes ‣‣ Long Tall Sally Brogues
aaaaand lastly I styled their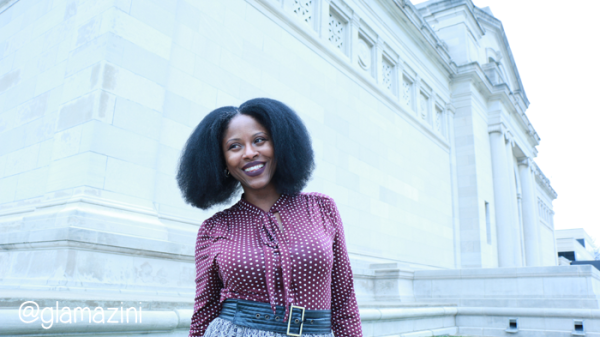 and decided to hit y'all with a bit of pattern mismatching and blowdried hair realness.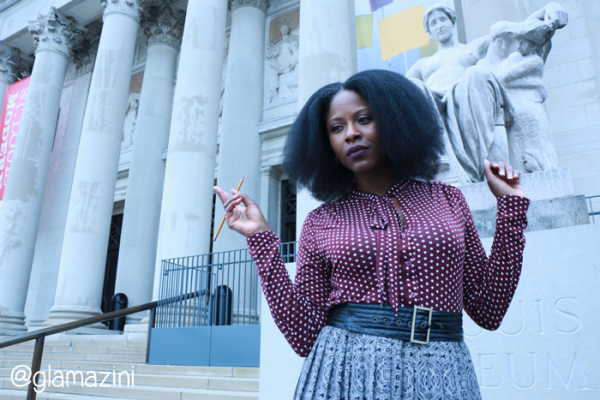 The pencil is so I look "studious". LOL!
At this point it had cooled down here in St. Louis and I was freezing outside the art museum without my coat on but I did it for the Glam.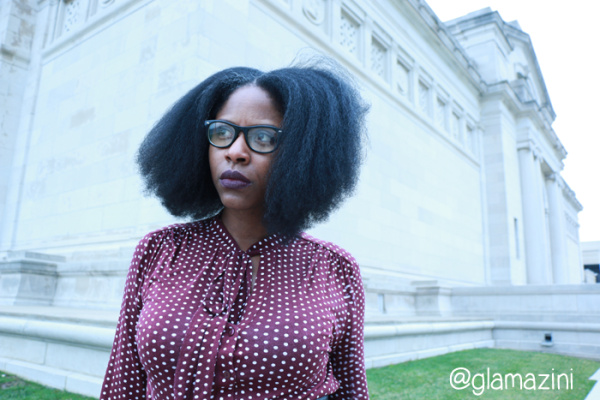 I'm not gonna lie, I'm kinda shocked how much I like this shirt. It's a button front jersey blouse with a pussybow situation on the front. I expected a different material so when it arrived I was underwhelmed BUT honey when I wore it and jazzed it up with this entire look … and that keyhole in the front yes boo. I can totally see myself wearing this with slacks, a pencil skirt or a jacket. Maybe I should wear this one to church tomorrow?? MMMMM MMMMM good and so comfy. The reviews say it runs big so I got one size down that expected and it fits perfectly.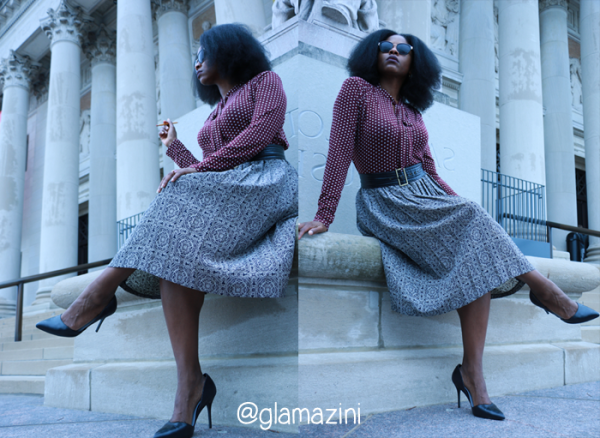 Hair ‣‣ My Scalp
Glasses ‣‣ Walmart
Lipstick ‣‣ Milani Moisture Matte Lipstick "Fearless"
Shirt ‣‣ Long Tall Sally Spot Bow Blouse
Skirt/Belt ‣‣ Moi
Shoes ‣‣ Calvin Klein
Old People Problems ‣‣ Good Feet Arch Supports
And of course I made a video to see the items in motion.

Click here to watch it directly on YouTube.
Leave a comment: Let me know which item you liked the best!
I was not paid for this post. The 3 times listed where sent to me by Long Tall Sally. Everything else was paid for with my own money.